One of the many reasons travelers choose unique vacation rentals over a run-of-the-mill hotel chain: the built-in experiences they offer. There's a certain thrill to booking a cool, private home that allows you to transition into your best vacation self.
Whether you're bringing the whole family or seeking a one-of-a-kind vacation rental for two, these unique homes will inspire a forever-talked-about adventure.
1. The Jurassic Retreat
Nestled in the lush Washington forest, this family-friendly vacation rental is a dinosaur-lover's dream. Be prepared, though: you won't have this spacious three-bedroom to yourself. You'll share your unique vacation rental with a life-size tyrannosaurus rex, velociraptor, and triceratops!
The modern-meets-prehistoric home also has a private hot tub, open-concept interior, and all the amenities you could ask for while journeying back in time about 65 million years. We recommend cueing up the 75" Smart TV so the whole gang can watch their favorite dino flicks.
2. A Wild West Getaway
Pack up the wagon and get the horses ready because we're taking a trip to the wild, wild west. This cowboy-approved ranch in Lucerne Valley, CA looks just like the set of your favorite Western movie. Staged with a rustic post office, classic barber shop, and saloon on the property, you and up to nine others can make a quaint frontier town your very own.
When you're ready to saddle up and explore, this unique vacation rental doesn't disappoint. The property offers off-roading adventures in the open desert, and is only a short drive from San Bernardino National Forest and Big Bear Lake. It's your vacation, of course, so if you'd prefer to lay low under the tin roof and snuggle up next to the fireplace, we fully support that decision.
3. The "Balinese" Oasis
Treat yourself to an international experience without needing to stamp your passport. This tropical sanctuary on Florida's eastern coast is loaded with spa-like amenities (hello soaking tub, tiki huts, and waterfront hammocks), making it the perfect destination for honeymoons and girls' trips alike.
From nearby white-sand beaches to bottlenose dolphins splashing around a lagoon, there's no shortage of memorable adventures right outside your door. This cool place to rent is sure to delight travelers of all types — and it never hurts to feel like you've traveled internationally while saving time and money.
4. Castle of Joy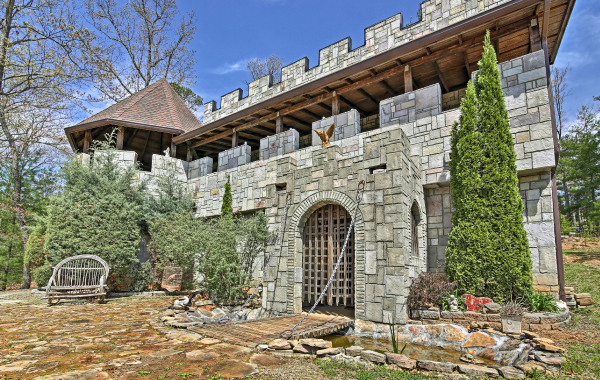 Live your full-on renaissance fantasy when you stay in this epic castle, complete with a drawbridge and portcullis. When you first arrive, you'll want to wander the 11 acres of beautiful terrain surrounding the grand stone fortress, then soak up the regal vibe of the luxurious decor inside. Of course, this home also takes you out of the dark ages and into modern comfort with a private hot tub on the terrace, where you'll soak in great mountain views amidst your old-world surroundings.
Whether you're visiting to explore the stunning fall foliage in the Blue Ridge Mountains or opting for a home you hath not leave for days, this majestic home is a perfect choice.
5. The Sorcerer's Cabin
Step into a world fit for witches and wizards when you stay in this Harry Potter-themed California cabin. Fans will delight in each room's Hogwarts-worthy decor, and can take in views of the surrounding forest (don't worry, this one isn't forbidden) from two wraparound balconies.
With scenic hiking trails and Snow Valley Mountain Resort nearby, there are also a variety of activities to keep you busy in all seasons. Embark on a spellbinding adventure, then enjoy a meal back home under a canopy of floating candles. Of course, the cabin comes complete with a smart TV and all eight Harry Potter films — so you can snuggle in for a magical night with your favorite cast of characters.
6. The Cozy Dome
Embark on a one-of-a-kind vacation when you stay in this quaint dome just outside of Blanco, TX. With room for two and the character of an above-ground hobbit home, it's an affordable vacation rental perfect for couples or the solo traveler.
The innovative architecture is what sets this studio space apart from so many other vacation rentals — it's like a tiny home, but with an extra pop of personality. And with a state park, winery, and lavender farm nearby, there are plenty of opportunities for adventure before returning to your snug hideaway.
7. Riverside Shipping Container
If rich history, bold character, and wide-open spaces make your list of vacation must-haves, you won't want to miss out on this shipping container home. Family-run since 1899, the 400 acres of organic farmland give you plenty of room to roam — along with direct access to the Spring River — while the modern living space is a perfect fit for four.
Pack your days with new experiences in nearby Branson, then come back home for incredible stargazing from the large deck. (You can also warm up by the fire pit during chillier seasons.)
8. A Disney Lover's Dream Home
When it comes to family-friendly retreats, this themed vacation rental near Disney (it's a mere 10 minutes away) stands out from the rest. With an action-packed game room, heart-warming references to your favorite characters, and space for 10, it's the perfect accommodation for a multi-generational family adventure.
After a fun-filled day in Orlando, you can take a break from the crowds and dip in your private swimming pool. Or, challenge your companions to a competitive game of foosball in the air-conditioned arcade. Wherever your Disney vacation ideas lead you, when staying here you're pretty much guaranteed to make lifelong memories with the ones you love most (and Mickey Mouse, of course).
9. A Schoolhouse Studio
Entertain your inner history buff by making a renovated schoolhouse your vacation home base. Complete with quirky decor like old school desks and chalkboards — and nostalgic games like marbles and jacks — it's an affordable vacation rental that's certainly far from ordinary.
And since every school session needs time for recess, it's convenient that this West Virginia studio is just minutes from vineyards and hiking trails. The studious traveler can also grab a book and unwind by the gas fire pit in the private backyard, making this unique home a solid A+.
10. Cliffside Alaskan Escape
With sprawling acreage and breathtaking natural surroundings, there's nothing quite as unique as this dream-worthy villa. Sitting a little higher than other Alaska vacation rentals, it's literally perched on the side of a cliff.
It takes going off the grid (while still enjoying ultra-modern amenities) to new heights, too. The luxurious villa has room for nine, a hot tub overlooking the Alaska Range, and 22 acres ready for exploration. Just imagine: after a day of glacier hiking, you take a bayside soak while eagles soar up above. Aren't you feeling more relaxed already?
11. The Luxury Treehouse
Star in your own whimsical adventure when you stay in this fancy treehouse rental on Hilton Head Island. Fit for six guests, its light-filled interior and panoramic views offer a truly unique treehouse experience. Whether you're inside cooking up a favorite meal or relaxing on the private deck, the airy architecture keeps you connected to nature throughout your stay.
You can also venture out to explore 12 miles of beaches, historic local hotspots, and a full range of good eats found in Hilton Head. Once you're ready to unwind, your upscale treehouse is a welcoming retreat for watching the sun set over the marsh.
12. Ted Williams' Former Home
It's not everyday that you have the opportunity to claim a Red Sox Hall of Famer's home as your own. Ted Williams and his Vogue model wife, Dolores, previously lived in this Vermont haven. Filled with memorabilia from his 19-year MLB career in Boston, it's a baseball family's dream getaway. You can even take a seat next to Williams himself (in statue form) while the whole crew roasts marshmallows by the fire.
Of course, a trip to this unique vacation rental wouldn't be complete without exploring nearby Killington Mountain or fishing in the Connecticut River. Once back home, make time to enjoy the expansive backyard with a few rounds of catch.
13. The Medieval Mansion
While the exterior of this unique home doesn't look out of the ordinary, one step inside will transport you to the thirteenth century. Set just outside of Salt Lake City, it's a vacation rental truly fit for kings and queens thanks to the castle- and dungeon-style decor. (There are even armor-clad knights guarding your living spaces to help you truly rest easy.)
After you unpack, take a stroll through the nearby botanical gardens or conquer the slopes of Park City. You can spend your nights playing themed board games, soaking in the jacuzzi, or snuggling up in the massive home theater. Braveheart, anyone?
14. Charming Mermaid Hideaway
Nestled along the Weeki Wachee River, this charming Florida oasis is the perfect place to relax under the sun and explore the vibrant local scene. Every space in this home bursts with color, from the aqua-hued driveway and striped exterior to the mermaid-adorned steps down to your private riverfront.
When you're ready to adventure, hop in one of three complimentary kayaks and cruise alongside friendly manatees, or load up the kids and head over to Weeki Wachee Springs for underwater performances by local mermaids. When it's time to refuel at the end of an action-packed day, the outdoor kitchen and bar area makes at-home meals a breeze.
15. A NASCAR Fan's Bucket List Home
Calling all NASCAR fans! This luxurious Fort Worth condo is the ideal place to watch your favorite drivers tear up the track. Fit for eight guests, this unique vacation rental features a 12-seat viewing area of Texas Motor Speedway with floor-to-ceiling windows.
When you're not watching NASCAR or sun-bathing by the community pool, you can head into downtown Fort Worth to enjoy all the top things to do, or make a day trip to nearby Dallas. However you plan to kick back and relax, this one-of-a-kind home base puts you in the driver's seat of an epic adventure.
16. A Historic Church
Centrally-located in downtown Durand, this beautifully-renovated historic church has tons of charm. With original stained glass windows and a spiral staircase worth drooling over, the open concept floor plan can comfortably accommodate 10 guests.
You'll feel the warmth of the Wisconsin sun as it colorfully lights up your space each morning. But you won't want to linger in bed too long — there are a bunch of great bars, restaurants, and hiking trails this charming small town to really round out an ideal Midwestern vacation.
17. Renovated Gas Station
Formerly a full-service Sinclair, this gas station vacation home in Schulenburg, TX is bursting with personality. The functional '50s jukebox and historic decor give blast-from-the-past energy, while the huge windows let in tons of natural light. And with a fenced-in backyard — not to mention a fire pit, grill, and backyard games — you're guaranteed a getaway to be pumped about.
Snap a few photos in front of the property's mural before heading out for an afternoon of local wine tasting, or wind down from a day trip to Austin with stargazing on the rooftop deck. With loads of character and must-have amenities, you'll be hard-pressed to find a more unique place to rent.
Find Unique Vacation Rentals for You
If exciting and memorable experiences are what you're after, these unique vacation rentals are sure to deliver. And no matter where your inner adventurer takes you next, you can rest easy knowing your comfort is the highest priority when you book with Evolve.
Looking for more travel inspiration? From desert escapes and luxurious getaways to family road trip itineraries and wine regions worth exploring, we have plenty of ideas to help plan your next vacation.