Luxury vacations in the U.S. were once limited to the realm of all-inclusive resorts and high-end hotels. But with the rising popularity (and wide variety) of luxury vacation homes, those traditionally luxe vacation spots aren't necessarily the go-to for guests anymore.
With the right vacation rental, you can take luxury to the next level — added privacy, extra-large space, and jaw-dropping scenery, all delivered at hotel-quality standards. Whether your dream home is located by the water or in the mountains, close to wine country or brimming with family fun, these 15 destinations will have you seeing five stars without ever having to step outside the property.
Luxury Beach Vacations That Make a Splash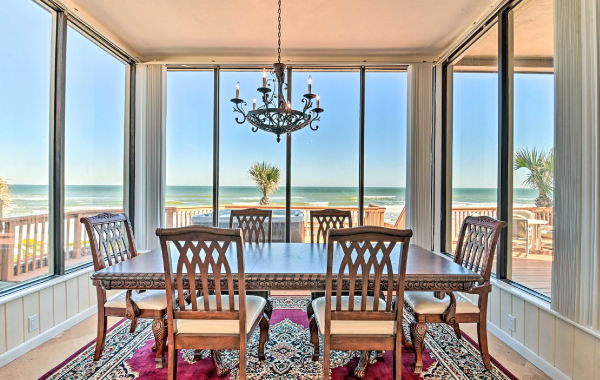 If a dip in the pool isn't enough to whet your whistle, then it's time to bring the shores to your doorstep at one of these lavish homes right off the water.
1. Oceanfront Coastal Florida Getaway
If your dream luxury vacation revolves around relaxing on the beach and splashing in the ocean, this beautiful Wilbur-By-The-Sea property sits just south of Daytona Beach and provides the ultimate access to surf, sand, and sun.
Follow the back steps down to the no-drive beach to enjoy the water, or take in panoramic ocean views from the all-glass great room, second-story balcony, or furnished porch. On chilly evenings (or during cooler months), you have your choice of indulgent ways to warm up: take a bubble bath in the jetted tub, cuddle in front of the marble fireplace, soak in the seaside hot tub, or have a steam in the sauna.
If you're more of a foodie, you can also whip up an elegant meal in the fully-equipped stainless steel kitchen — though this private slice of shoreline is conveniently located less than 10 miles from many fine dining options in Daytona Beach.
2. Lake Michigan Shoreline Home
Who needs a resort when you have all of the amenities of a luxury vacation in a private home? The "Asolare" is a jaw-dropping property where you and up to 16 guests can bond over amazing activities without having to share.
Work up a sweat on your own backyard tennis court, then cool down in the gorgeous indoor pool surrounded by a massive atrium. Challenge your guests to a game of pool, or start an impromptu poker tournament on the screened-in porch. When it's time to kick back after a day of play, take a relaxing steam in the sauna or get cozy around the fire (you have both indoor and outdoor options). 
While you may never want to leave the comforts of this dazzling home, your own private stretch of Lake Michigan shoreline also just happens to be two blocks away, and is the perfect setting to share a sunset toast.
3. La Jolla Hilltop Hideaway
For a different take on luxury beach vacations, set your sights on the unreal panoramic coastal views of this hillside perch in La Jolla. You can step through the airy, open spaces of the modern home and onto the wraparound flagstone terrace, where it's easy to take in the breathtaking scenery while firing up the barbecue or sipping cocktails by two gas fire pits. When you're ready for a dip, you can head downstairs to the private yard to splash in the pool and hot tub.
With multiple living spaces, five bedrooms, and a huge gourmet kitchen, even 15 guests will have plenty of breathing room to discover their own special spot to relax. The ocean also sits just a few minutes away by car, along with Michelin-star restaurants ready to serve you an elegant night out.
Luxury Mountain Vacations That Take Trips to New Heights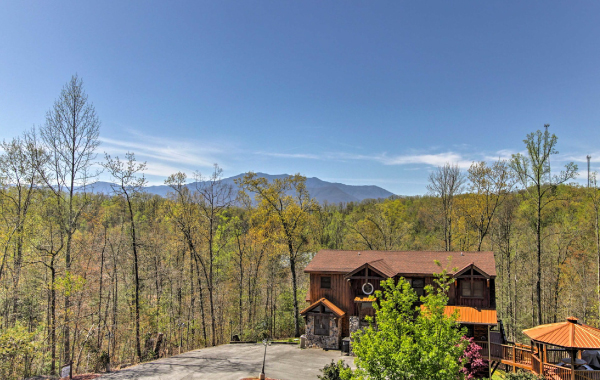 While a cabin vacation can be a quaint way to escape the everyday, these massive homes will make you feel like King or Queen of the Mountain.
4. Luxury Ski-In/Ski-Out Telluride Escape
Reserving an entire ski resort might be tough, but staying in this massive 8,500 sq. ft. Colorado retreat can offer many of the same perks. With direct ski-down access to Telluride Ski Resort and a dedicated room to store and dry gear, snow bunnies can save precious time for more playing in the powder.
After shredding the slopes (or playing a round of golf in the summer), you can treat yourself to après comforts like a six-person sauna, steam shower, full-service bar, fully-equipped exercise room, and outdoor hot tub. You could also fix yourself a five-star meal in the chef's kitchen, play a game of pool, or settle in near one of the many flat screen TVs or stone fireplaces.
With so many incredible amenities wrapped up in a stunning cabin atmosphere, this home is a once-in-a-lifetime destination for a large family gathering or a group of ski buddies looking for one of the best luxury mountain vacations out there.
5. "Windham Manor" Victorian Mountain Mansion
When it comes to sharing a spectacular experience (and splitting a splurgy bill), the more the merrier. And with 12 bedrooms and accommodations for 33 guests, the "Windham Manor" might be the most whimsical place for friends and family to comfortably come together.
This remodeled Victorian Mansion sits atop 45 private acres of fields and forests, with breathtaking views of the Catskill Mountains from the wraparound deck. You can enjoy your own slice of serenity with private bathrooms, flatscreen TVs, and picture windows in almost every bedroom.
For some extra R&R, a full-service spa is even available upon request at this luxury vacation spot. Or you can take a more DIY approach and fix yourself a cocktail at the bar, take a soak in one of the massive tubs, and share a cozy moment around the fire pit.
6. Castle in the Smokies
To give yourself the royal treatment, you need a setting that's fit for, well, royalty. Tucked in a tree-covered spot near Gatlinburg in the Great Smoky Mountains, "Braxdon's Castle" feels like it was plucked straight from a storybook. Medieval masonry covers every corner of this home, from the towering river rock fireplace and stone floors to the beautiful brick archways that highlight each bedroom.
Challenge your guests to a friendly tournament of darts, arcade games, or pool, then cook up a feast in the fully-equipped kitchen. After soaking in the views (and bubbles) from the porch's hot tub, climb the spiral staircase and enjoy the en-suite bathrooms with jetted tubs.
Whether you want to whisk your family away to another time or please your rogue's gallery of Merry Men and Women, this magical destination delivers an unforgettable experience and is one of the most surprising luxury vacations in the U.S.
Luxury Family Vacations Brimming with All-Ages Activities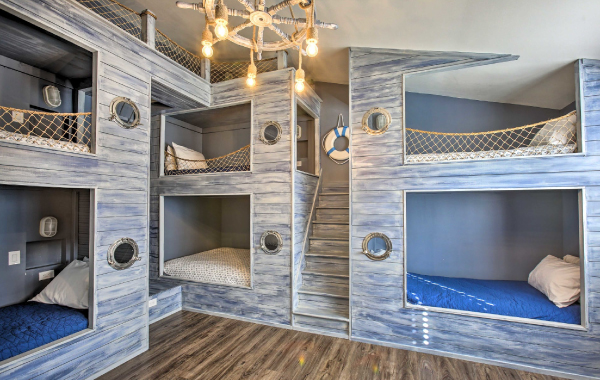 Why should adults get to have all the fun? These adventure-packed properties are sure to wow guests of any age and go down in history as the Best Family Vacation Ever.
7. Luxe Lakefront Family Escape in Michigan
Make memories that will last a lifetime on the waters of Little Traverse Lake. This five-bedroom Maple City home is dripping with charming nautical touches, including an adorable bunk-bed room that's perfect for a sea-worthy sleepover. 
Stroll past the sun-soaked porch and to the end of your private 80-foot dock to set course on an aquatic adventure. Skip the grocery store and have the concierge service stock your fridge and bar. Share a meal around the formal dining table. Swap stories (and s'mores!) around the fire pit. Watch films in the movie projector room. Gather the whole gang to play a friendly game of shuffleboard.
All of that is possible at this luxury vacation home. And when adult-only time kicks in, you can venture out to nearby Traverse City for fine dining or take the Wine Trail to stop at 10 different vineyards.
8. Amish Country Villa in Heart of PA
Bring the family together and still have plenty of space in this sprawling home that sits on 60 acres of woodlands. From the cozy, book-filled study to the private hiking trails that criss-cross through the surrounding forest, everyone can have their own slice of paradise. There's even a private basement apartment with two bedrooms, a living room, and a kitchen — the perfect opportunity to give kids and teens a taste of independence and truly make it one of those luxury family vacations for the books.
Athletes of all ages can kickstart some friendly competition on the barn-turned-basketball court or the outdoor tennis court. You can also enjoy the cooking and crafts of Pennsylvania's Amish country, have a play day at the nearby Dutch Wonderland amusement park, or simply stay put to enjoy the ample amenities at this luxury vacation rental. No matter which route you choose, here it's easy to enjoy the simple life in the most extravagant way possible.
9. Kid-Friendly Davenport Paradise
In the magical world of Disney, your family deserves a luxury vacation rental that's fit for a prince or princess — and this beautiful villa in Davenport delivers. Located just 20 minutes from Disney World and Orlando, it's a convenient home base for your days of sightseeing. When you're back, you can splash in the private pool and hot tub under a lanai, watch films in the Hollywood-themed movie room, channel your inner Ratatouille in the chef's kitchen, and play air hockey or pool in the game room.
Each space is decorated in themes that spark the imagination, from adorable beach vibes and Arabian Nights for the young ones to regal touches in the master suites. On top of all that, you also have access to the shared community amenities, including a clubhouse, fitness center, business center, sand volleyball court, playground, and picnic area.
In other words, this property lets you think outside the resort and treat yourself to a luxury vacation in the U.S. with all the comforts and convenience of home.
Luxury Desert Vacations That Create a Sandy Sanctuary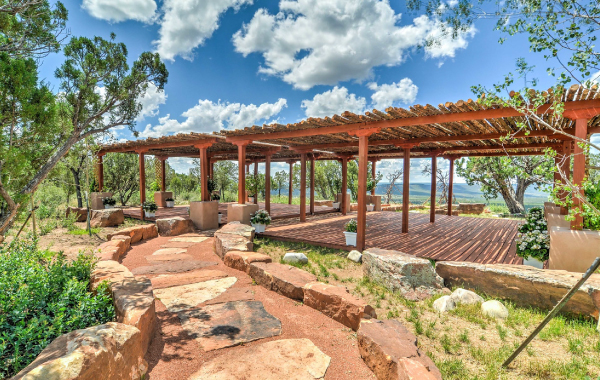 Set against a backdrop of sand and sun, visiting one of these architecturally stunning stays feels like seeing a mirage. (But they're 100% real!)
10. Unique Architectural Sedona Retreat
Nature lovers can discover their own private oasis at this one-of-a-kind vacation rental in Arizona's luxury home hotspot. Whether you're looking for a spiritual retreat, an unforgettable couple's getaway, or a multi-family reunion, this combination of a main home, guest house, and pristine landscaping offers the space and serenity to relax.
You can welcome the outside in with intricate stone work that mimics the surrounding red rocks of Sedona. Or delight in gorgeous details like tall stained glass windows, exposed brick, a claw-foot tub, and a vintage iron oven.
When you need a moment alone, it's easy to relax on the wraparound porch, or soak in the gorgeous gardens and koi pond from the red rock lanai. (There's also access to nearby trails on-site.) Sedona itself is rich with indulgent activities too, like eating at this acclaimed Mexican restaurant owned by a James Beard Award winner, or booking a unique-to-the-area wine and vortex tour.
11. Exquisite New Mexico Ranch
Say "Howdy!" to 1,650 acres of sprawling New Mexico terrain and experience cowboy-chic comfort at this massive luxury ranch. It's easily able to host 24 friends and family for an all-inclusive getaway, and every inch of the show-stopping decor transports you to a modern Southwestern fantasy.
The sheer amount of outdoor amenities helps you unwind, too: there's a pool, sauna, and hot tub; fully-equipped outdoor kitchen and dining space; yoga deck, gazebo, and fire pit; even a dog run and kennel for your furry friends. (There are also on-site horseback riding and hiking trails, in case you really want to unleash your inner rancher.)
So while this luxury desert vacation rental could be one of the most expensive on your wishlist, the sheer amount of extraordinary activities, amenities, and atmosphere is well worth the price — especially when you can share all of the fun with a large group.
12. Los Cerrillos Hillside Villa
If you're ready to splurge on a big life event, forgo the standard banquet halls for this 13,000-square-foot Los Cerillos villa. Centrally located between Albuquerque and Santa Fe, the more-than-accommodating space is the epitome of Colonial Spanish decor, with historical pieces peppered around beautiful old-world architecture.
You can relax and refresh in one of the nine bedrooms, as each has its own Kiva fireplace and en-suite bathroom. When it's time to come together, it's easy to prepare a meal in the commercial-grade kitchen, swap stories in the formal dining room, and share a drink around the grand piano.
Just don't forget to give yourself a regal reception in the sprawling stone courtyard, complete with panoramic views, a lovely garden, and room for seating and dancing. It's the perfect place to throw a celebration that leaves everyone feeling star-struck in the desert.
Luxury Wine Country Vacations That Deserve a Toast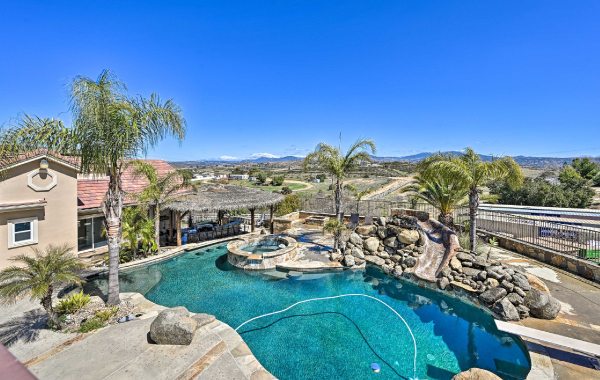 Drink in the gorgeous views and plush accommodations that help create the kind of luxury vacation dreams are made of before you've even had a sip of vino.
13. Indulgent Wine Country Villa
A private, sun-drenched escape awaits at this spectacular Santa Rosa oasis. Perfect for up to 10 guests, the five-bedroom property features panoramic views of the Sonoma Valley and countless nearby wineries to explore. 
Equipped with a stunning infinity pool, private courtyard and amenities fit for kings and queens, you'll find everything you need for the ultimate California wine country getaway.
Bask in the sun on your private deck, relax by one of two indoor fireplaces, or cozy up next to the fire pit under a canopy of stars. No matter how you plan to kick back on vacation, this kingdom is guaranteed to be just as elegant as the Pinot Noir you'll soon be sipping.
14. Sunny Temecula Oasis
This exceptional Golden State escape is the perfect place to gather your friends for a long weekend at the wineries. Not only is it conveniently located near 10 vineyards, but it offers the ideal tropical treatment thanks to a crystal-clear pool, water slide, outdoor kitchen, and tiki bar in the backyard.
You can start and end each day on the balcony, where shimmering views of the sunrise and sunset can be seen over rolling hills and vineyards. And because this is about taking a luxury vacation in the U.S., you even have the option to book concierge services, local tours, and horseback riding — all of which help create a truly unforgettable trip
15. Luxurious Napa Valley Home
Invite your seven favorite couples on a luxurious wine country vacation where this gorgeous Calistoga home serves as your home base. Natural light flows from room to room, illuminating the lavish, eclectic artwork around every corner. The gourmet kitchen is a cook's dream, equipped with a six-burner stove to feed guests with flair. And en-suite bathrooms and plush beds offer comfort and privacy, with a gigantic marble bathroom and jetted tub for whoever's lucky enough to stay in the primary suite.
The outdoor area is prime for entertaining, with enough seating for everyone to eat lunch al fresco in the large courtyard surrounded by a garden filled with lavender and vegetables. Just around the corner there's a private pool, hot tub, and exquisite fireplace (not to mention views of Mount St. Helena and the Palisades).
Of course, you can't come to Napa Valley and not plan a trip into town to explore the nearby tasting rooms. To make it extra special, you can also unwind with relaxing treatments in California's "Spa Heaven."
Rest Easy on Your Luxury Vacation
When your heart is set on having a luxurious vacation, any little hiccup can ruin the mood. That's why every stay in our homes is backed by our Rest Easy Promise that your vacation rental will always be safe, clean, and ready for you and your family.
If you want to discover more dreamy destinations for any size budget, be sure to check out our other travel blogs that can inspire your next itinerary. From tiny houses and small towns with huge appeal to leaf-peeping destinations and stargazing sites, there's a wide range of trips begging to be added to your bucket list.