The U.S. has an estimated 15 million skiers, who every year flock to the mountains in droves.
For prospective vacation rental owners searching for homes in popular ski towns, the draw of busy winter months is quite enticing. Many are looking to purchase a property before the slopes get lively, and stand to achieve impressive returns with the right investment.
And the interest from potential buyers often goes beyond investment value. Not only are they able to offset their mortgage by renting out their ski vacation home, but they fall in love with the idea of having a second home in a great ski destination because they, too, can enjoy visiting whenever they please.
So, what's the catch? There are a number of often-overlooked factors to consider on the journey to vacation rental property perfection. Ski seasonality, limited inventory, and competitive list prices frequently deter homeowners from making the ROI they expect.
But fear not. Whether you're looking for the honest truth about classic markets or hoping to get the most bang for your buck in a lesser-known ski area, we've compiled the ultimate guide to sorting through your ski rental options. We'll start with your absolute best investment opportunities, and then provide our top recommendations for those interested in making iconic hotspot dreams a reality.
How We Qualified The Best Places to Buy Ski Rentals
The selections below are based on a combination of proprietary and public data. We analyzed rental performance data in ski towns across the country to uncover the locales in which bookings lead to higher median value. We used Zillow's median listing prices for homes in each area and, to help calculate cap rate, estimated the annual expenses of running a rental at 30% of total revenue. While every individual owner's situation will be different, this information should help focus your search and contextualize every option.
Here are the best places to buy ski vacation property across the country—suited to an array of homeowner goals.
Off the Beaten Path | Snowshoe and Massanutten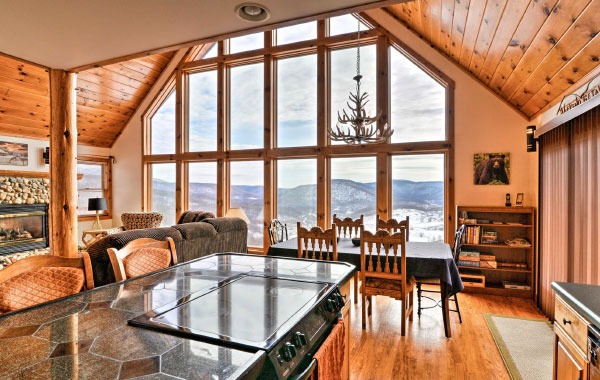 Prospective ski rental owners who believe maximized ROI comes first and foremost can find great value in unexpected places.
Try Snowshoe, WV for an out-of-the-box take on the ski rental. Here, list prices are incredibly low, yet properties are conveniently located close to the foot of Snowshoe mountain, and see a considerable return on investment for vacation rental owners. Skiing and natural beauty make this diamond in the rough a valuable, largely-untapped opportunity for our owners.
Snowshoe, WV median rental revenue: $24,910
Snowshoe, WV median listing price: $111,755
Example cap rate: 15.6%
Massanutten, VA also poses unique ski town value to potential buyers. Built around a quaint ski resort, this destination draws tourists for snow sports at large, but also offers visitors year-round recreational activities like a waterpark, golf range, and ample shopping. Massanutten is a great option for those seeking to expand their view of what a ski rental can be. It also neighbors McGaheysville, a Virginia town you might remember from our 2020 best places to buy a vacation rental.
Massanutten, VA median rental revenue: $39,564
Massanutten, VA median listing price: $199,990
Example cap rate: 13.8%
The Iconic Destinations | Breckenridge and Winter Park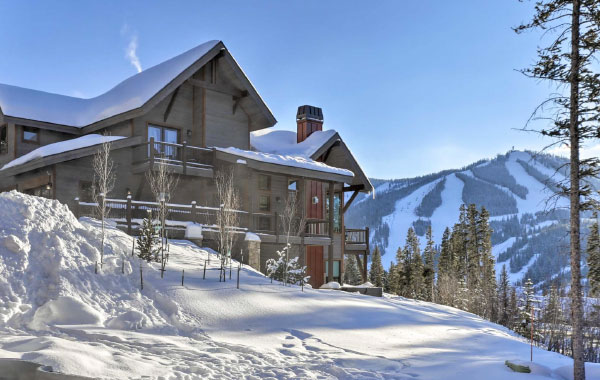 If you were playing a game of word association and someone said "ski town," you might instantly think of Aspen, Tahoe, Vail, or Stowe. While these idyllic destinations are often top of mind, they offer limited inventory at steep prices. It's also important to note that California markets, in general, are highly regulated and present more difficult obstacles for property investment.
For buyers seeking that classic feel but hoping for easier entry into the market, we recommend diverting your attention to ski towns like Breckenridge and Winter Park, CO. Still quite iconic, and you'll find more inventory to acquire at lower price points. With proximity to Denver and the opportunity for year-round sightseeing, these ski towns will also help you achieve consistent occupancy rates—even when the high season comes to a close.
Breckenridge median rental revenue: $40,123
Breckenridge median listing price: $756,000
Example cap rate: 3.7%
Winter Park, CO median rental revenue: $16,883*
Winter Park, CO median listing price: $534,779
Example cap rate: 2.2%
*The Evolve Difference: Winter Park owners make $1,800 more in annual median rental revenue with Evolve.
The Best of Both Worlds | Killington, Summit County-Adjacent, and Salt Lake City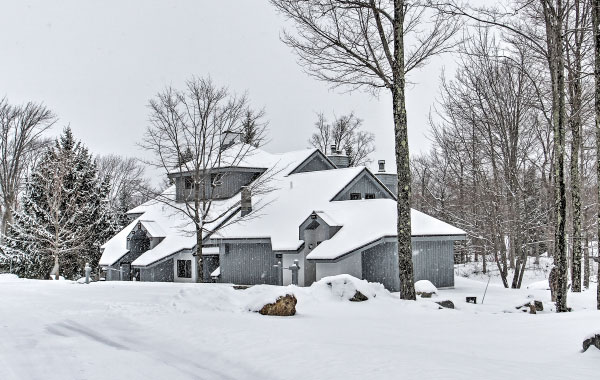 If you're hoping to invest in a ski rental property at a lower financial threshold, but want to stay closer to that classic feel, not to worry. These ski towns, while less of a departure from our iconic hotspots than Snowshoe and Massanutten, still afford owners easy purchase, solid ROI, and measurable overall value—making them strategic alternatives.
Satisfy skiers drawn to Vermont's iconic Stowe by investing instead in Southern Vermont's Killington. Prospective homeowners can find shockingly cheap townhouses that still sit close to the ski mountains, and get a much higher return on investment than they would farther north. The charm and quintessential value of Vermont ski season, of course, remains paramount for visitors.
Killington, VT median rental revenue: $23,632
Killington, VT median listing price: $137,206
Example cap rate: 12%
Give your guests the Summit County, CO experience without the hefty price tag by purchasing a property in Alma or Fairplay, CO. You'll get a lot more bang for your buck and see high net occupancy without paying top dollar for the Summit County zip code.
Fairplay, CO median rental revenue: $35,395
Fairplay, CO median listing price: $344,381
Example cap rate: 7.2%
Alma, CO median rental revenue: $30,365*
Alma, CO median listing price: $353,184
Example cap rate: 6%
*The Evolve Difference: Alma owners make $12,000 more in annual median rental revenue with Evolve.
Eschew Park City, UT listings in favor of Salt Lake City properties. It's not in the challenging and expensive Park City area, but is an easy drive over to the slopes for your ski-savvy guests. Even better? SLC properties have high summer occupancy rates as well, so you can rest easy knowing your ski rental returns will take you right into warmer weather. For income-focused buyers, SLC isn't first on the list, but with less market competition and year-round occupancy, it remains the best option for Utah ski rental investors.
Salt Lake City, UT median rental revenue: $17,347*
Salt Lake City, UT median listing price: $440, 150
Example cap rate: 2.8%
*The Evolve Difference: Salt Lake City owners make $2,300 more in annual median rental revenue with Evolve.
Boost Your Success With Evolve
While some of our recommended ski towns boast more upside than others, it's important to remember that Evolve owners frequently outperform the market expectations. As seen above, owners in Winter Park, for instance, make $1,800 more each year with Evolve than the market median suggests, while Alma owners see a whopping $12,000 more in annual vacation rental returns. That's the Evolve difference.
How does Evolve pull it off? Our exclusive pricing algorithm sets competitive rates year-round that earn 24% more than traditional pricing methods. We give your property distinct visibility on top sites like Airbnb and Vrbo by applying professional marketing expertise. And we're committed to the guest experience by enforcing the highest industry standards and providing 24/7 support. Great reviews mean even more bookings.
If you've surveyed our recommended ski towns for rental properties and are ready to take the next step, learn more about our real estate services. We have the data to contextualize your investment opportunities and define your objectives, preferred real estate agents who specialize in vacation rental purchases, and, of course, that arsenal of management tools to help you reach your personal and financial goals.
With so many great options across the country, there's no better time to dive into your search. Once you've zeroed in on the perfect home, we can help you take it to the next level, too.
Click here to start the conversation about purchasing a ski rental.