When it comes to ski trips, vacation rentals provide the perfect lodging options. From cozy cabins to luxurious chalets, travelers can start the day in the comfort of a private kitchen, preparing hearty breakfasts and brewing coffee before hitting the slopes.
After clicking out of their boots, it's all about après-ski fun — sipping mugs of hot chocolate, snuggling by a fireplace, and soaking in bubbling hot tubs.
But ski towns across the country have also become four-season vacation destinations. With attractions like alpine coasters and ziplines — not to mention spectacular fall foliage and fun mountain biking routes — many have become year-round hotspots.
That means those looking for the best places to buy ski property are likely to have guests booking up the calendar throughout the seasons, making it easier than ever to hit occupancy and revenue goals.
So whether you want to buy rental property in a classic ski town or invest in an up-and-coming charmer, here are the best places to buy ski property in 2022.
How We Chose the Best Places to Buy Ski Property
The By the Numbers data below is based on a combination of proprietary and public data, but the three main metrics we took into account are:
Vacation rental performance metrics for ski towns across the U.S. to learn where bookings lead to higher median revenue


Zillow's 2021 median home value to identify listing prices in ski towns


Estimated yearly expenses to run a vacation rental (approximately 30% of total revenue) to help calculate cap rate
We also evaluated a property's potential to outperform market expectations with an Evolve partnership. Below, you'll see The Evolve Difference, showcasing how we helped some of our top ski property owners maximize income in each area, resulting in them significantly surpassing the market's projected revenue.
1. McGaheysville, Virginia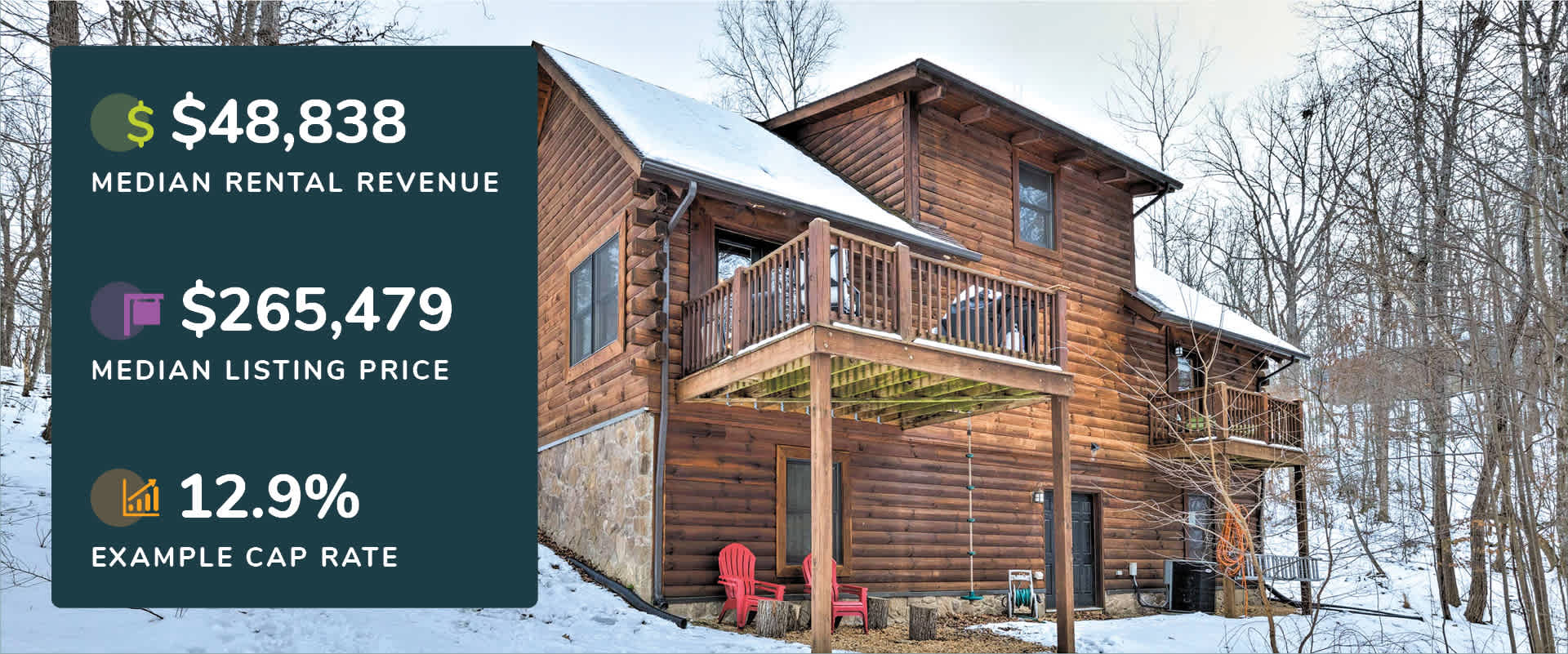 Nestled in the Shenandoah Valley, McGaheysville is an outdoor lover's paradise that not only is one of the best places to buy ski property, but it's a great place to buy a vacation rental in general.
This East Coast mountain town shines particularly bright in the winter thanks to its proximity to Massanutten Resort, a family-friendly ski spot with a nice mix of beginner, intermediate, and advanced terrain. The resort also has 16 groomed snow tubing lanes and glow-in-the dark tubes to keep the fun going long after the sun sets.
Our Real Estate Services (RES) team says top-performing vacation rentals here are typically less than a 10-minute drive from the resort, so it's best to look for homes in that vicinity first. On average, properties in McGaheysville list just over $265,000, and with an impressive 12.9% cap rate (the ratio between the property's net income and its market value), owners can enjoy a strong return on investment.
Your search also doesn't have to stay strictly in McGaheysville. If you're not finding your dream ski property, our RES team recommends looking at nearby Massanutten for more inventory.
2. Logan, Utah
With 500 inches of snowfall each year — plus Great Salt Lake State Park — Utah claims to have the greatest snow on Earth. Skiers of all levels appreciate the just-right density of this special Utah snow that lends a "floatability factor," and one of the best spots to experience it is in Logan.
Known as one of Utah's "best-kept winter secrets," Logan is home to Beaver Mountain — the oldest continuously-owned family ski resort in the U.S. — and Cherry Peak Resort, which offers affordable skiing for budget travelers.
That said, vacation rental inventory could be 30 minutes or more outside of these resorts. So when looking for the best place to buy a ski property, it's smart to look for homes with garages and snow removal service available to make guests' ski day commutes a breeze. And with average home prices hovering around $334,000, Logan could be the perfect place to break into the ski country rental property game. Other Utah mountain towns can be pretty expensive comparatively — Park City median home values are more than $1.3 million, for example, and Provo sees homes listing for well over the $3 million mark.
3. Ruidoso, New Mexico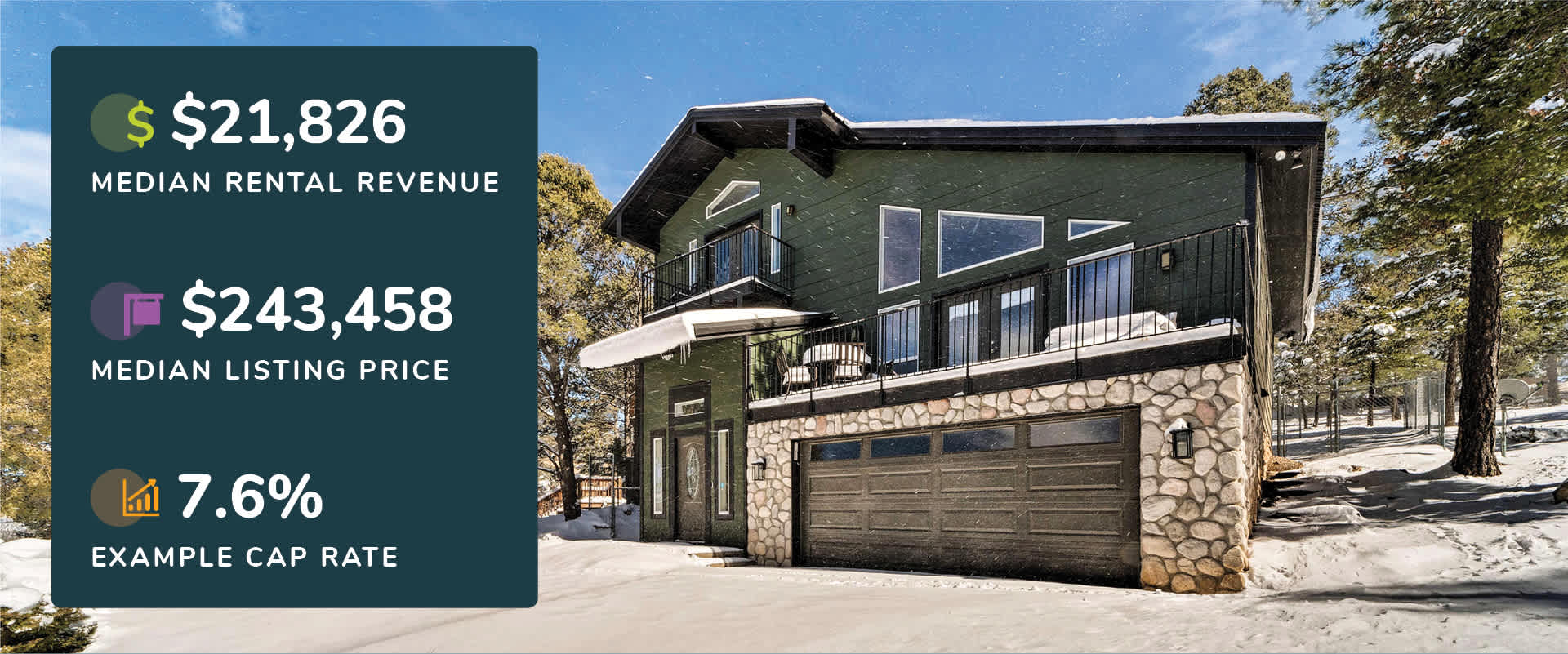 Ruidoso is another destination that landed on our best places to buy a vacation rental in 2022, largely because it draws visitors with plenty of fun things to do all year.
But when the winter months hit, this New Mexico destination offers a special kind of mountain town magic in a unique Southwest setting. From horse-drawn sleigh rides through canyons to dining in igloos at Ruidoso Winter Park — and yes, hitting the slopes at Ski Apache mountain resort — there's no shortage of bucket-list activities for guests visiting this enchanting city.
With all that opportunity in mind, buyers should look for properties that can suit a variety of travelers, be it families, groups, or those vacationing with pets. Hot tubs, large wraparound decks, and mountain views all add property value and grab the attention of vacationers who are looking for luxurious getaways.
4. Windham, New York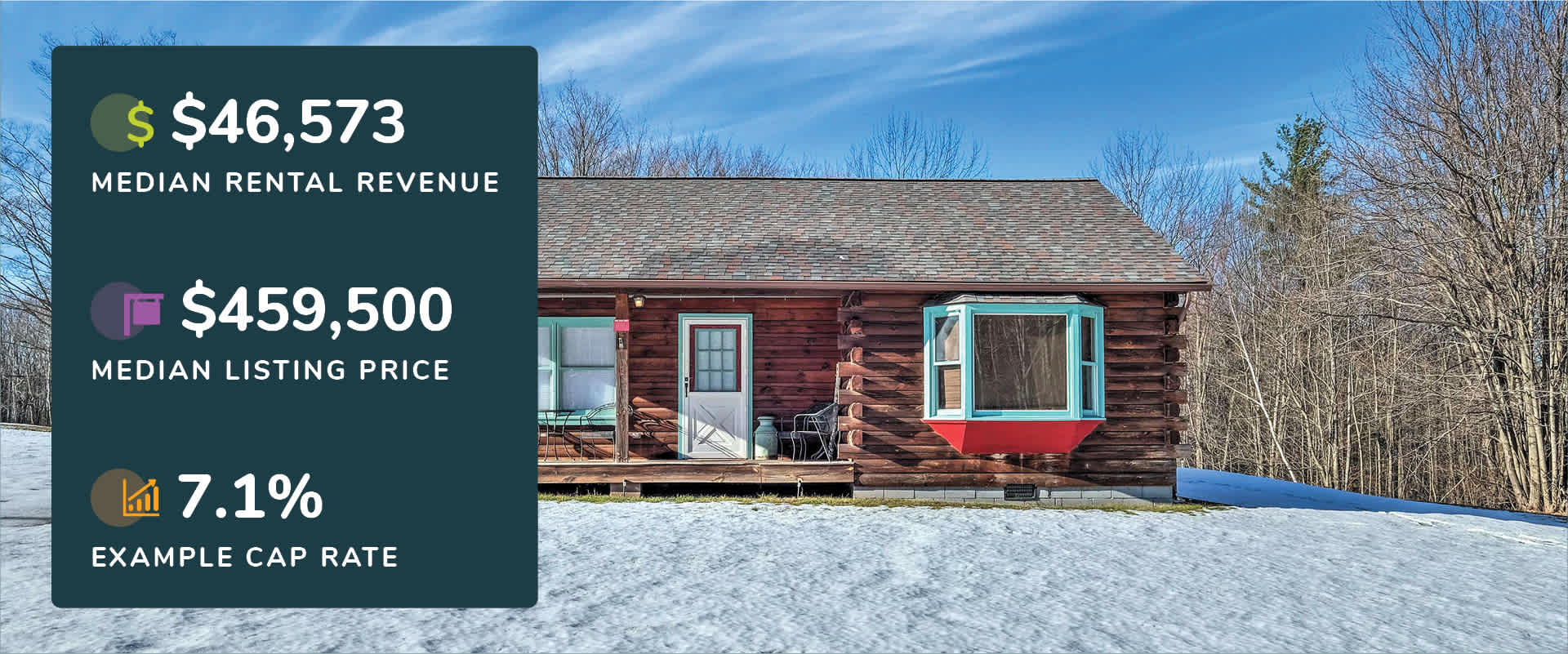 Less than three hours north of New York City, Windham is an easy escape for urbanites looking for weekend ski trips. Windham Mountain is a family-friendly resort with 54 trails, and the après-ski scene is unmatched thanks to the wine bars and bustling restaurant scene.
December and January are the best times for guests seeking fresh powder, but Windham is another one of those destinations that excels at being a year-round market for vacation rentals.The Windham Mountain resort is also home to a mountain bike park, and there's reputable golf to be found at the Windham Country Club.
Our RES team says proximity to the slopes is a major revenue generator — nearby Evolve owners have made over $62,000 annually — so investors should look to scoop up homes that are within just a couple of minutes of Windham Mountain.
5. Bozeman, Montana
Skiers coming to Bozeman have options, which broadens the vacation rental audience for ski property investors.
For starters, Bridger Bowl (a non-profit ski area) is less than 30 minutes away and offers some lesser-known but still stellar skiing in the Rockies — and it's often at a fraction of the cost of most resorts. There's also Big Sky, an Ikon-pass resort located between Bozeman and West Yellowstone that has 5,850 skiable acres and a whole slate of winter activities (think snowshoe tours, cross-country skiing, and dog sledding).
When the ski season wraps, vacation rentals can stay booked with travelers venturing to Yellowstone National Park (less than 1.5 hours away) and those interested in the warm-weather adventures around Bozeman.
Home prices are steep in Bozeman (the average listing price is near $642,500), especially if you're looking for a large property. But that shouldn't dissuade buyers: while median annual revenue dances in the $42,000 range, there's a 6.5% cap rate, and some Evolve owners have brought in nearly $110,000 annually.
6. Alma, Colorado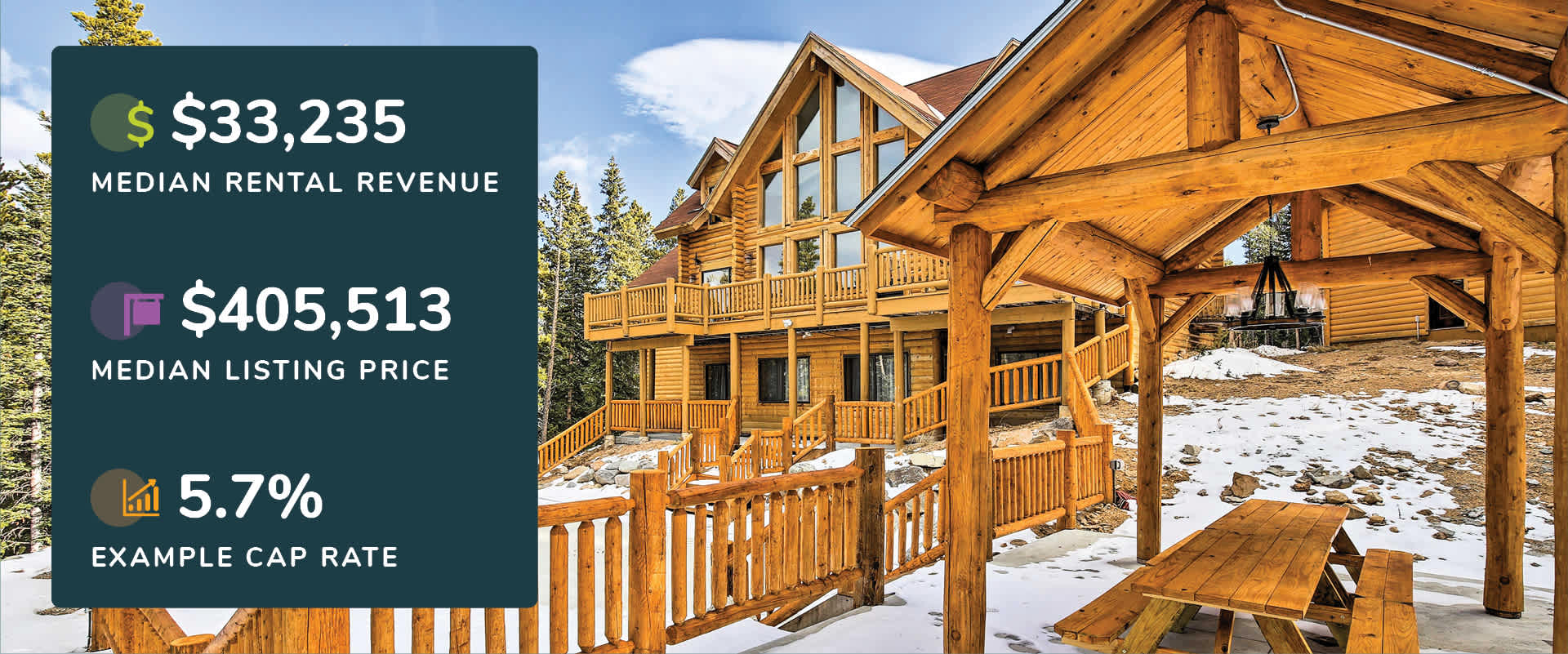 Vacation rentals in Colorado's ski country tend to come with price tags that, like their elevations, are quite high — some sit well over the $1 million mark. But in the tiny town of Alma, homes are much more affordable with median listings sitting around $405,000.
The great news is Alma also serves as a basecamp for multiple ski resorts, making it the perfect draw for a variety of skiers. For Epic Pass holders, Breckenridge Ski Resort is less than 30 minutes away. And those who opted for the Ikon Pass can reach Copper Mountain and Arapahoe Basin in about 45 minutes.
Plus, buyers looking in this area can search for everything from hideout cabins nestled in Aspen groves to more luxurious mountain homes fit for family getaways. One note of warning, though: Alma sits in Park County (as does nearby Fairplay, another great place to buy ski property), which is currently facing short-term rental permitting delays. So it's likely anyone who buys in this area soon will miss this year's vacation rental rush.
That said, you could still nab a home in a prime location, setting you up for major ski season profits in the long run. Annual median revenue for Alma is in the neighborhood of $33,000, but some Evolve owners have made more than triple that amount in a year.
7. Boyne City, Michigan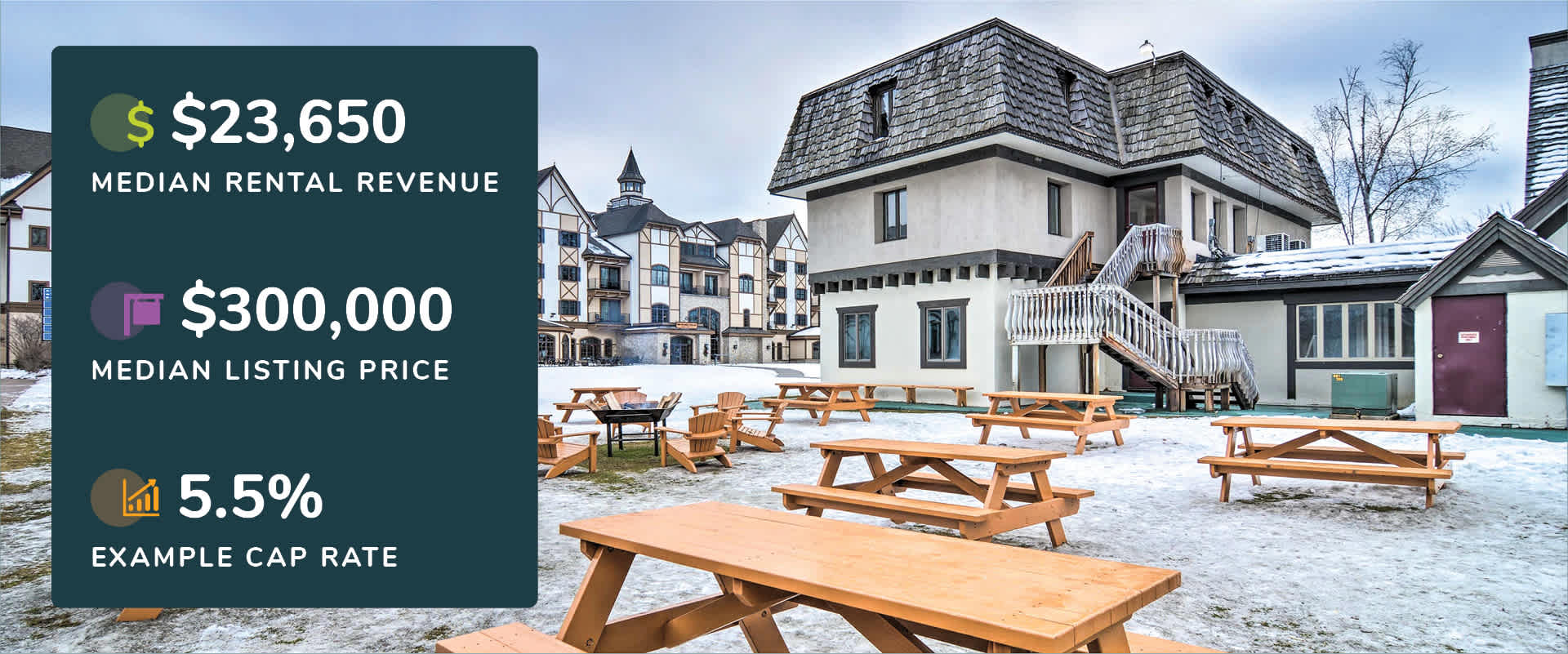 In-the-know Midwesterners flock to Boyne City for memorable vacations in the sun and snow. Not only does Boyne Mountain have 60 downhill trails, but winter enthusiasts can go fat biking, tubing, snowshoeing, and ice skating at the resort. In warmer months, there's plenty of beaches for summer fun, including nearby Lake Charlevoix, Peninsula Beach, and pet-friendly Tannery Beach.
Our RES team says to look for properties near Boyne Mountain, as the best places to buy ski property in this charming Midwest market are within about a 10-minute radius to the resort. Be on the lookout for value-adding amenities like garage parking and a fire pit too, as these can be attention-grabbing in listing photos.
To help earn five-star reviews from guests, once you have your vacation rental it's a good idea to stock it with both thoughtful cold-weather extras (think sleds, blankets, and board games) and beach-friendly amenities.
8. Killington, Vermont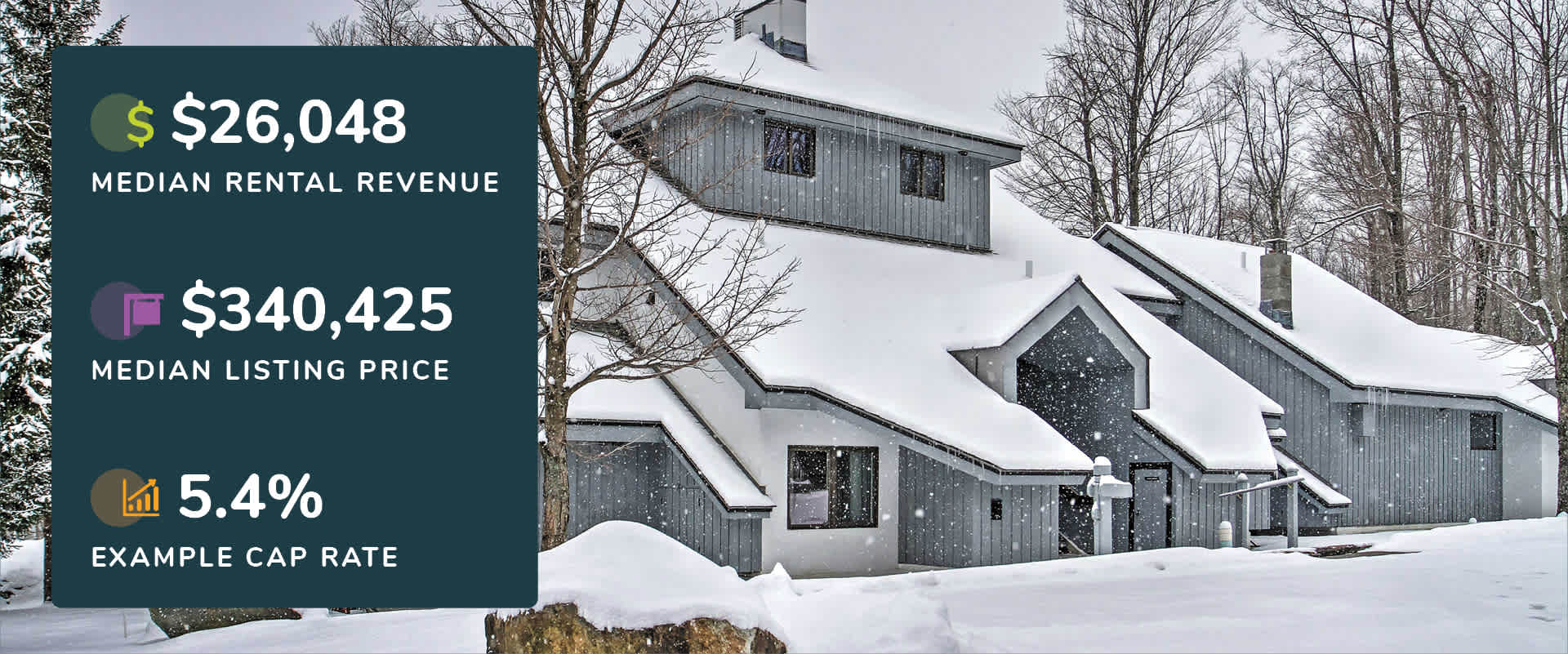 Ski resorts close to Killington are among the most popular on the East Coast and, thanks in part to snow-making machines that churn out fine powder, the skiing and snowboarding seasons are extra long in this part of the country — meaning those with vacation rentals here could see steady bookings for longer.
Killington Ski Resort, for example, often stays open until early June, giving travelers plenty of time to book homes that help them take advantage of the 1,590 skiable acres (including a 3,050-vertical drop nicknamed the "Beast of the East"). Okemo also stays open for longer — the Epic Pass resort sits 40 minutes from Killington and, when guests aren't taking advantage of the 200 inches of snow the resort sees each year, they can ride the four-season Timber Ripper Coaster.
Also worth mentioning: while Killington median revenue is around $26,000 a year, some Evolve owners are bringing in more than $76,000 during the same period. Ski-in, ski-out properties and those close to the slopes shine in this mountain town, as do those with mountain views, hot tubs, and fire pits.
9. Whitefish, Montana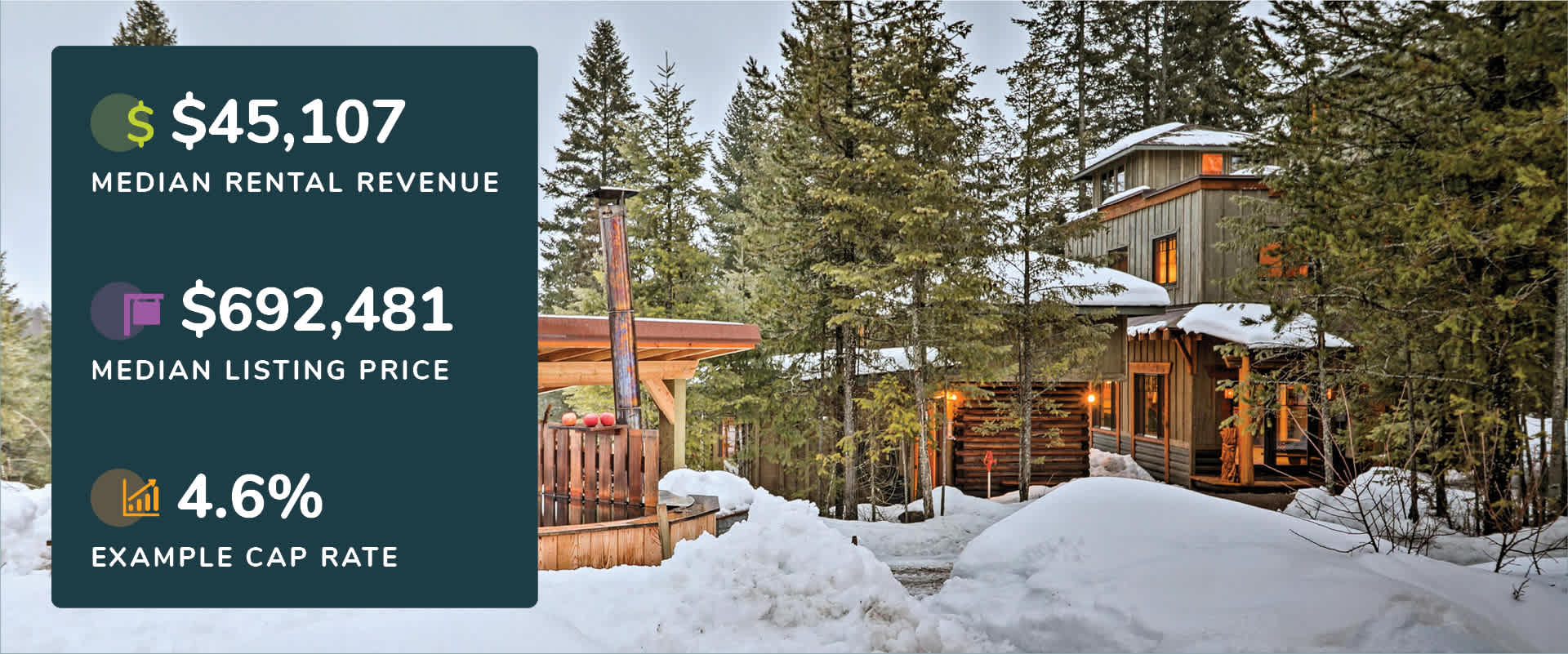 The great outdoors are a prime amenity in Whitefish. This Montana oasis is 25 miles outside Glacier National Park and it's home to Whitefish Mountain Resort, a ski haven that's kissed with 320 inches of annual snowfall and has plenty of runs for beginner and advanced snow bunnies alike.
Home prices are steep in Whitefish, with the median listing coming in just over $692,000. The upfront investment can pay off, though: while median annual revenue sits at $45,000, some Evolve owners have earned more than four times that amount, making over $183,000 in a year.
It's also worth noting that while vacationers do enjoy an outdoorsy escape here, they don't want to be pushed all the way "off-the-grid." For that reason, our RES team recommends looking for homes within a 15-minute radius of Whitefish Mountain Resort and equipping that mountain town rental with cable and wireless internet. (This can even help draw snowmads, aka remote workers taking advantage of being able to connect from anywhere).
10. Fraser, Colorado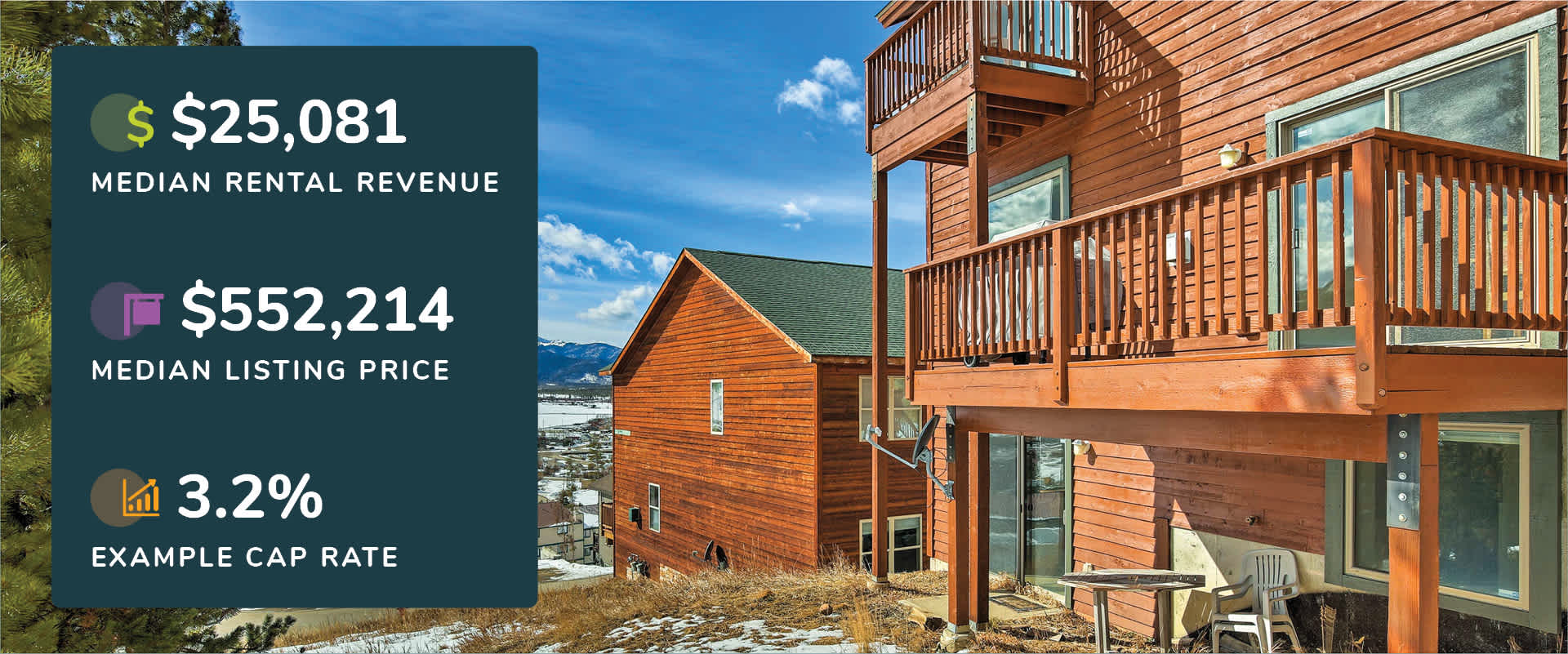 Fraser is a great place to buy ski property because it's easily accessible for both out-of-towners coming into Denver International Airport and Denver residents who want more time on the mountain and less time in traffic. It sits close to Winter Park Resort, Colorado's longest continually-operated ski resort that sees an average of 326 inches of snowfall and 300 days of sunshine each year.
While annual median revenue in Fraser comes in around $25,000, some Evolve owners are earning close to six figures in that same time period. One part of their secret sauce: finding a property that's less than 15 minutes from Winter Park Resort.
Fire pits and hot tubs also add value to properties bought in Colorado's famed ski country. But some low-cost, smart investments can also include thoughtful touches like winter boot mats near entryways, cozy throw blankets, and memory-making kitchen accessories like fondue pots and mugs of hot chocolate.
11. Big Bear Lake, California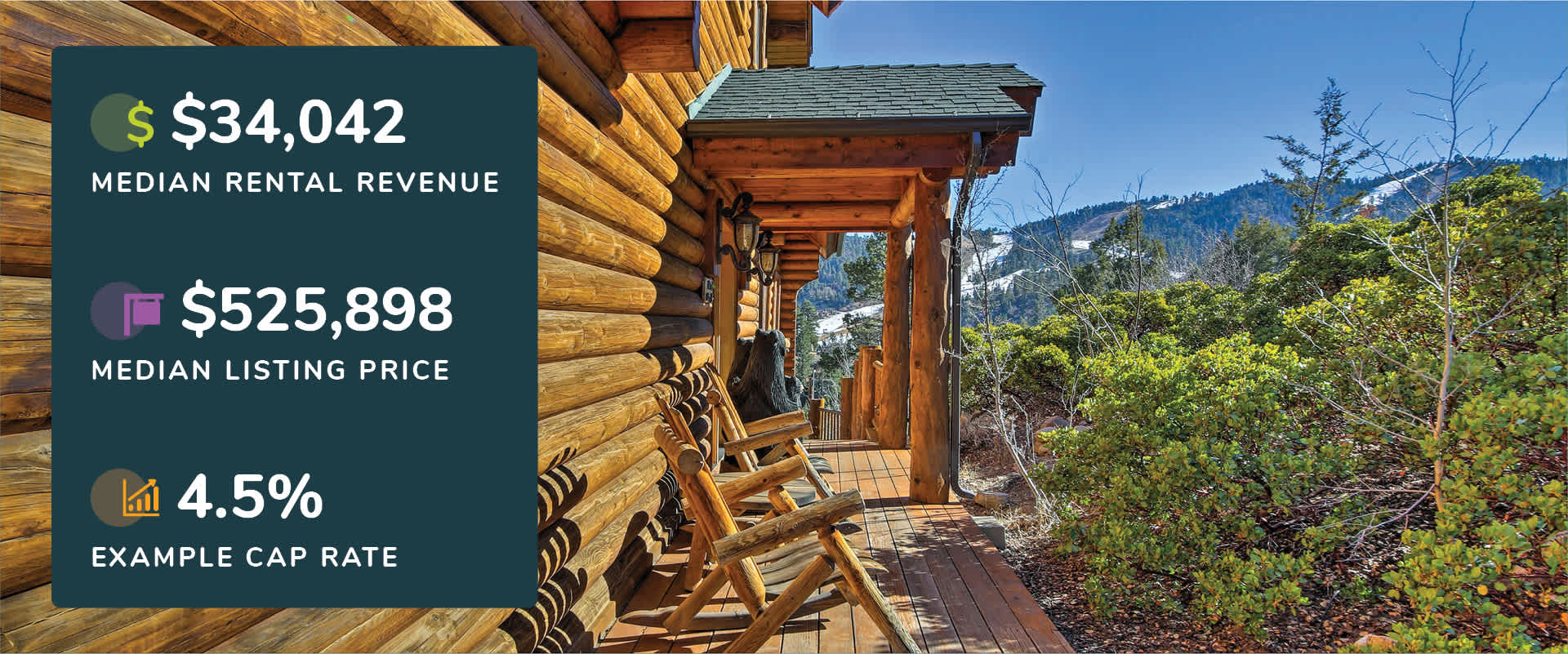 Big Bear Lake not only has prime SoCal skiing, but this sought-after destination is also on our list of best places to buy a lake house, giving people who invest in the area tons of year-round revenue potential.
While it's a big draw for vacationers within The Golden State, Big Bear also appeals to those coming from Las Vegas and Phoenix looking to spend time at Big Bear Mountain Resort. Some of the best views of the vistas and lake are from the chairlifts at this two-mountain resort, and the lift-served bike park bolsters its four-season reputation.
Like much of California, homes in Big Bear Lake come with a high price tag — median listing price is nearly $526,000, and it's common to see numbers rise considerably above that (particularly when looking at lakeshore properties).
Luckily, setting your sights on homes farther from the lake and closer to the foot of Big Bear Mountain Resort broadens your price point options — and some Evolve owners who've made this choice have seen upwards of $86,000 in annual revenue.
12. Taos, New Mexico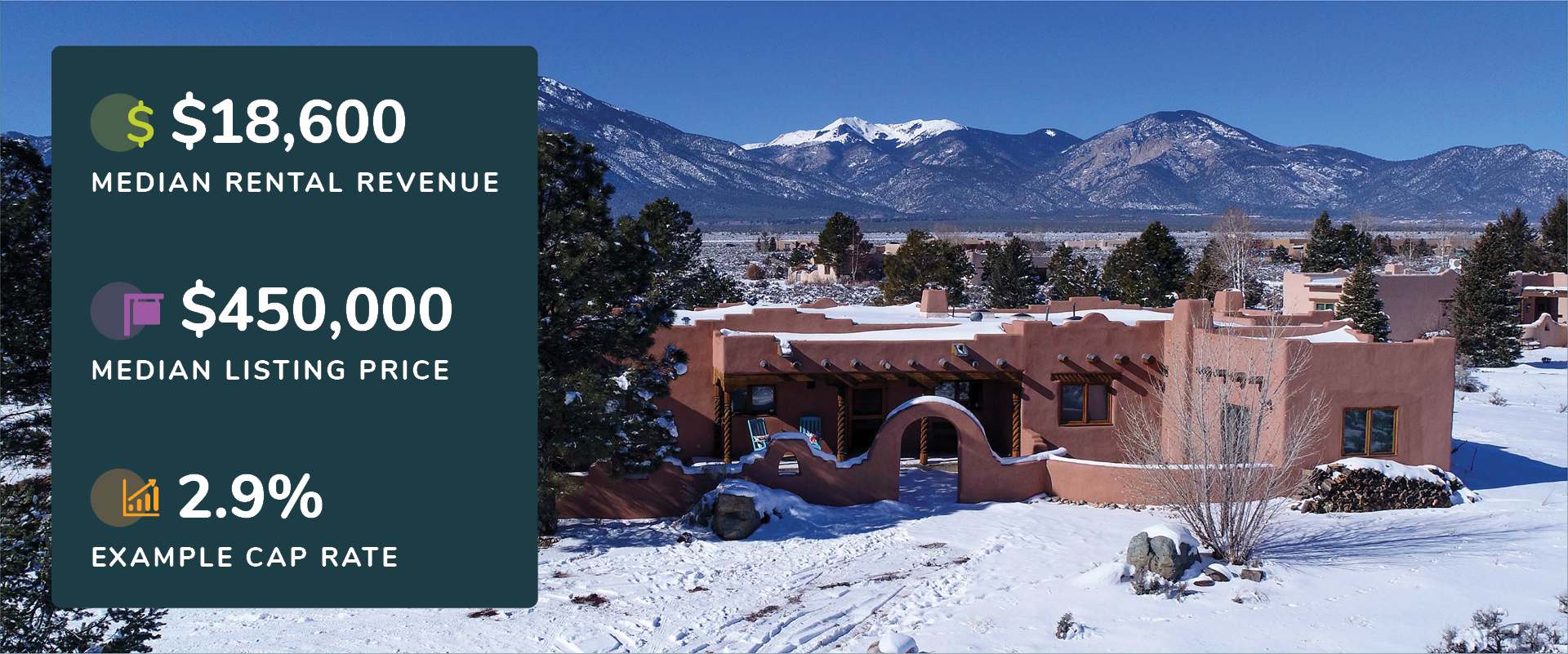 If you're looking for a unique ski town for real estate investment that blends mountains and mesas along with history and outdoor recreation, Taos delivers.
This New Mexican locale is home to Taos Ski Valley, another Ikon Pass ski area that gets an average of 300 inches of snow annually, lots of sunshine, and has 110 trails — half of which are expert level. It's also less than a five-hour drive from Denver, making it a fun Southwestern option for those looking to explore outside Colorado ski country.
Whether you invest in a beautiful A-frame cabin or a sprawling, high-end chalet, comfy (and low-cost) amenities like sleds, snow tubes, and hot chocolate can all help garner five-star reviews in Taos.
Take the Next Step with Evolve
Investing in a vacation rental property is a personal decision, but you don't have to navigate your options alone. Our Real Estate Services team can help you take the next step toward buying the ski rental property of your dreams.
We have the data to contextualize your investment opportunities and define your income goals, preferred local real estate agents who specialize in vacation rental purchases, and an array of management tools to help make your ski property a success once you're ready to jumpstart your business.
For additional research, here are some resources to help you better understand the potential of vacation rental investment:
Now that you're ready to talk about buying the best ski vacation rental for you, let's get the conversation started today.