Small towns invite you to amble their enchanting, colorful streets and spoon cold ice cream on hot summer days. When you're away from it all, you can crack your window open and hear the crickets singing or ocean waves lapping the shore. These destinations offer the chance to slow down and celebrate the simple things — and that's just why they hold so much allure to travelers.
Now, we invite you to indulge your wanderlust and travel into the heart of America's best small towns.
TAOS, NEW MEXICO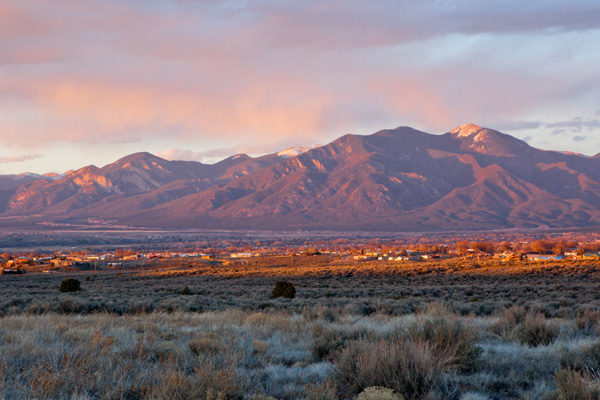 Taos is a vibrant community where art is alive — a place where you can toast to the sun as it drapes over the terracotta buildings. Head to Taos for bold flavors, rich history, and sweeping views of the Sangre de Cristo mountains.
SEE: If you want to feel your stomach drop while towering over your surroundings, visit the Rio Grande Gorge Bridge, the fifth highest bridge in the United States. Another stop you'll want to experience is the Taos Pueblo, where you can tour a Pueblo that has been inhabited for over 1,000 years. No trip to Taos, New Mexico is complete without a visit to the forbidden art gallery by D.H. Lawrence located at the Hotel La Fonda de Taos). While you're in town, spend an afternoon touring the Taos Historic District on foot. When you're ready for a nightcap, follow the neon sign into Taos Inn and ask the bartender to deliver your favorite tequila.
Traveling with a car? Take the road trip down to another small town — Santa Fe, New Mexico (approximately 90 minutes away) — and experience Meow Wolf, a gallery that begins in a Victorian house and transports you into a surreal wonderland. Before you head back to Taos, stop to admire the Georgia O'Keeffe Museum for a study of the iconic painter's work.
MOVE: Despite its eclectic, desert ambiance, Taos is a destination for skiing, and Taos Ski Valley is the place to hit the slopes. You can also find outdoor activities like hiking, mountain biking, or hot air ballooning at the scenic Rio Grande del Norte National Monument. For those looking for an uphill challenge, Williams Lake hike makes for an unforgettable climb. After a long day in the sun, wind down at Ojo Caliente Spa's hot springs, perfect for anyone over the age of 13.
EAT + DRINK: Authentic mole, homemade guacamole, and New Mexico's renowned chili await you at La Cueva Cafe. Once you're ready for something sweet, satiate your sugar fix at Chokola, a small-batch chocolatier famous for sipping chocolate. Lattes are a form of art at Elevation Coffee, so be sure to indulge in one as you wander the town.
SLEEP: Find your dream vacation rental and rest your head at the base of the Sangre de Cristo mountains.
BRECKENRIDGE, COLORADO
Breckenridge is one of the best small towns in America, and it's anything but sleepy. Come winter, skiers and snowboarders flock here to fly down fresh powder at lightning speeds. In summer, Breckenridge transforms into a natural playground for spotting wildlife, hiking, biking, and experiencing a pocket of the mountain that hums with energy.
SEE: If you've ever wanted to meet a real-life fairytale character, say hello to The Breckenridge Troll, also known as Isak Heartstone. The downtown area of this mountain town is home to a classic Main Street perfect for passing an afternoon with apple cider in hand as you stroll quaint shops, charming coffee houses, and bars and restaurants.
MOVE: Travelers from all over the world come to hit the slopes at Breckenridge Ski Resort and the nearby Keystone and Copper Mountain — and if you want to fly the mountain by way of sledding or tubing, there are plenty of places nearby to do it. Those who are looking for more tranquil outdoor adventures can head out for a hike at the wildflower-lined Cucumber Gulch (check for trail closures).
EAT + DRINK: After a day of adventure, you might be craving something hearty like a burger or mac and cheese — both of which are on the menu at The Canteen. To drink in local flavor, head to a local brewery like Broken Compass for a pint or two. And whether you're in search of a sweet or savory snack, Crepes a La Cart serves up irresistible crepes — you can even order a s'mores crepe here.
SLEEP: Take in the area's best views and sip cocoa in one of these Breckenridge vacation rentals.
ST. AUGUSTINE, FLORIDA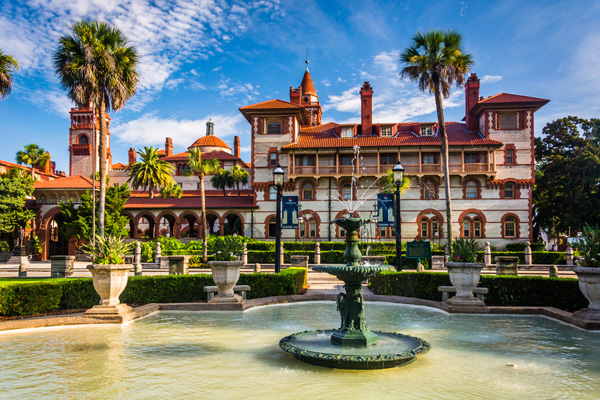 The oldest city in the United States is also one of the most memorable. History buffs and beach dwellers fill their days here with museums, decadent food and drink, and tranquil afternoon naps along the Atlantic.
SEE: Grab an afternoon history lesson at the Castillo de San Marcos Monument, where you can explore a fort rich with centuries of history. Overcome your fear of alligators at the St. Augustine Alligator Farm, the only place in the world that's home to every living species of crocodilian. For a quick offbeat stop, make way to the storied Love Trees, which are said to bring everlasting romance to their visitors.
LOUNGE: St. Augustine is more about slowing down than moving around — letting the sun cast over you and the waves tickle your feet, or diving right into the water as the sun goes down. Visit St. Augustine Beach for uninterrupted views of white sand and take a long walk, collecting shells along the way. If you're still looking to bike the coast, Crescent Beach has hard-packed sand perfect for getting a sweat on.
EAT + DRINK: Coffee is best when it's paired with a snack, and at The Kookaburra Coffee, that snack is a delectable Aussie Pie. If you've got a hankering for a big breakfast, find a seat at Maple Street and spread some housemade jam over rich, buttery biscuits. Dig your fork into a fresh catch at Catch 27, where seafood is the star, accompanied by local produce.
SLEEP: Make dinner and open your window up to the ocean breeze in St. Augustine. We think you'll love these great places to stay.
TRAVERSE CITY, MICHIGAN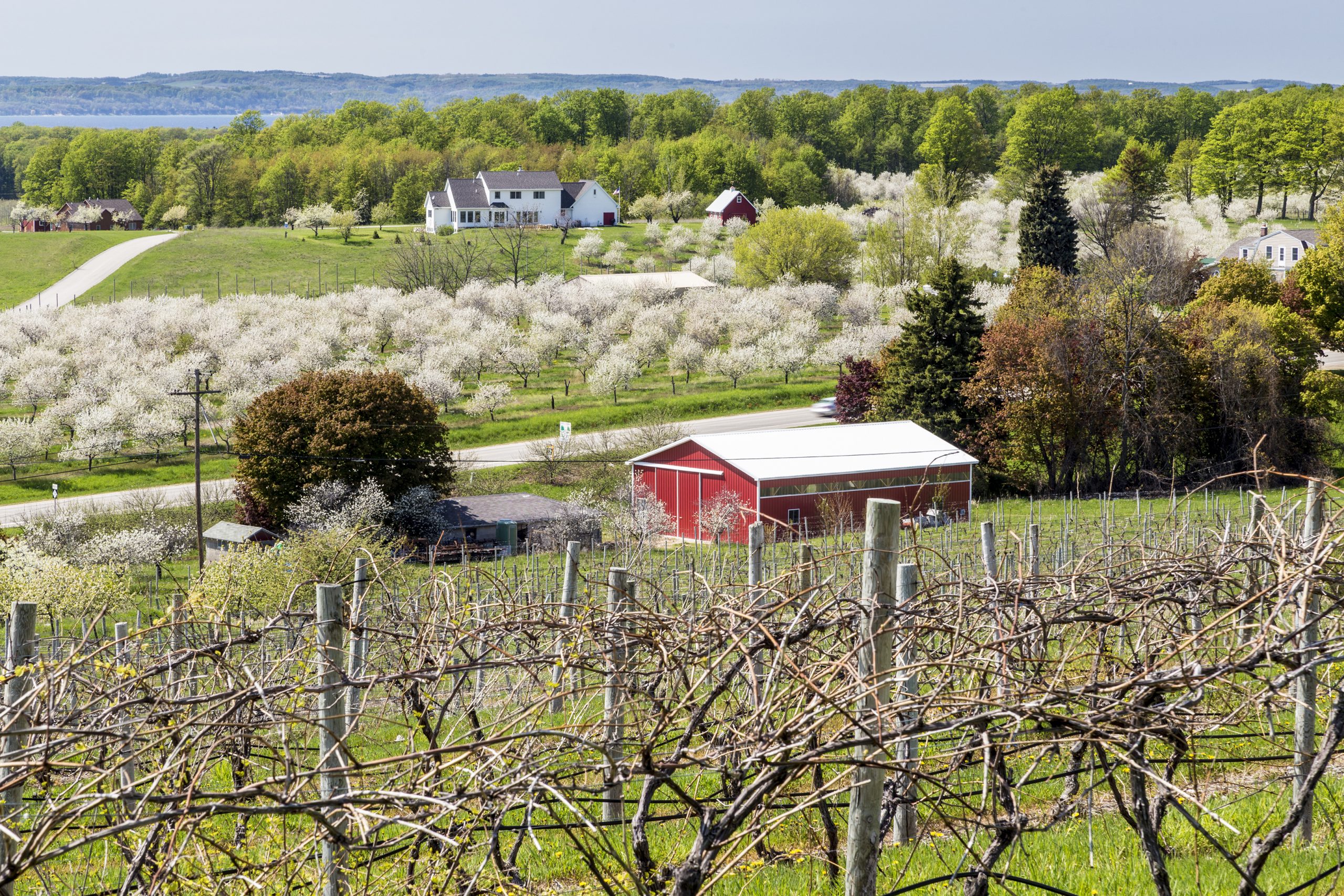 Traverse City, Michigan is the cherry capital of the world, and with it comes all the charm you might expect. Summer brings long days on the edge of the lake and refreshing local microbrews. In winter, Traverse City is the place to find your holiday spirit while skiing, sledding, and playing board games next to the flicker of a fire.
PLAY OUTSIDE: Traverse City is a destination for that timeless summer lake trip — where a day easily slips by as you sit near the edge of the dock. You can find your private view of the lake on the Empire Bluff Trail, which will lead you up to a perch where you can marvel over a coastline that you might mistake for a tropical beach. This trail is a part of The Sleeping Bear Sand Dunes, so if you're ready to channel your inner child, you can climb your way up the dune itself (it's harder than it looks).
If you're looking for something a little more low-key, you can lounge out in the sand along the waterfront at Clinch Park and bask in the views of Lake Michigan. But after a day of admiring the lake, you might be itching to get out on the water. At TC Watersports, you can rent jet skis or a boat for the whole group. You can also kayak your way to some of Traverse City's best beers on a Kayak Brewery Tour.
When winter sets in, you'll feel like you're walking inside of a holiday movie filled with snow-covered trees and warm, cozy coffee shops. Spend the day at Shanty Creek and race down the slopes on skis, spin your way down them on an alpine sled, or admire your surroundings from a flat path on cross country skis.
When you're ready to take a break, sip microbrews in a lit igloo or next to a heated campfire at Hop Lot (winter only).
SEE: Dive beneath the surface of Traverse City by walking through a brick steam tunnel crafted in 1883 on a tour of what used to be the Traverse City State Hospital (currently known as The Village at Grand Traverse Commons). After the tour is over, head to another place that will let you venture beyond surface appearances at Teetotallers Wholesome Refreshment, a hidden tea shop speakeasy.
If you consider yourself a cinephile, be sure to plan your trip around the Traverse City Film Festival and catch the next big hit on a small-town screen.
EAT + DRINK: One Traverse City old-fashioned candy stop has something that makes it hard to miss: An oversized, welcoming fudge box on the roof. Step inside Doug Murdick's Fudge for a slice of local history that comes with irresistible smells.
While you're in town, there's a trail you'll definitely want to follow — the Old Mission Peninsula Wine Trail. Michigan shares a latitude with celebrated grape-growing legends like Burgundy, Alsace, and Bordeaux, which means you can toast to the day with a glass that will become a memory.
When you're ready to wind down the day over a nightcap and some conversation, head to Trattoria Stella for irresistible burrata and hand-rolled pasta.
SLEEP: Find your place on the lake and start relaxing as soon as you check in. These Traverse City vacation homes give you a luxurious way to enjoy your surroundings.
HOT SPRINGS, ARKANSAS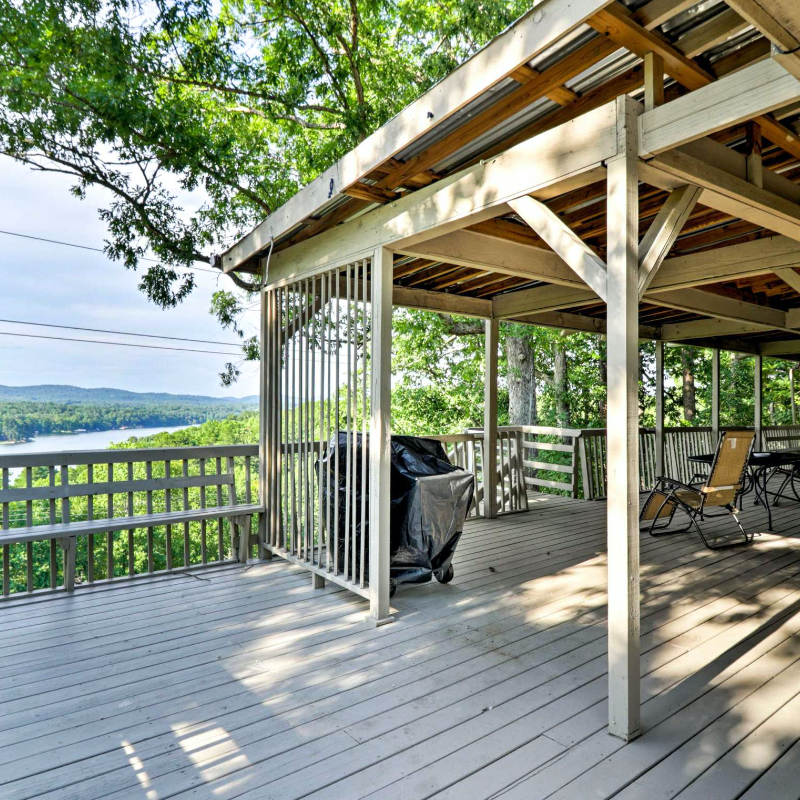 Hot Springs, Arkansas is filled with historic hangouts, natural beauty, architectural marvels, and geothermal waters. It's rare to get a full vacation experience amid the humble roots of a small town, but here, you will.
SEE: History lives in every room of the old-school cool Arlington Hotel, a hallmark of the city that used to be frequented by Babe Ruth and Joe DeMaggio. Head to Bathhouse Row to admire the architecture of antique bathhouses (you can even drink a beer in the Superior Bathhouse) or indulge in a dip and a spa day at Quapaw Baths.
GET OUTSIDE: One of the best photos of your trip can be snapped at Garvan Woodland Gardens. The gardens are home to Anthony Chapel, an architectural marvel that soars into the surrounding oak trees with floor-to-ceiling glass walls.
Once you've snapped a few photos, hike your way around Hot Springs National Park, where the geothermal temperatures climb to 143 degrees. If this heat has you craving something more refreshing, Hill Wheatley Park is a well-loved spot to go for a swim in Lake Hamilton.
EAT + DRINK: The cupcakes at Fat Bottomed Girl's Cupcakes are so celebrated that they've appeared on the Food Network — so you'll want to grab one as your midday snack (or hey, even breakfast). If you've got a hankering for pizza, Deluca's is the best stop in town. By night, find a seat at Arkansas' oldest bar called The Ohio Club, which formerly served as a haunt for gangsters like Al Capone.
SLEEP: Choose a casual hangout overlooking Lake Hamilton, or book a place with a hot tub and slow down under the stars. These Hot Springs vacation rentals offer something for everyone.
MYSTIC, CONNECTICUT
Fall under the spell of Mystic, Connecticut, which still feels untouched by time. This is the place to soak in quaint New England, celebrate maritime culture, and trade the bustle of the city for a peaceful way of life.
SEE: Start the day by strolling this seaside village's historic downtown, home to independent shops and restaurants like Main Street Soap Emporium. Then, gather some picnic supplies and a bottle of rosè and rent out a Mystic River Cruise to get out on the water.
Once you're ready to wind down, lounge on the sand at Williams Beach Park or cool off inside the Mystic Seaport Museum, an interactive museum where you can see the last wooden whaleship in the world.
ATTEND: If you're headed to Mystic, plan your trip around one of this small town's charming festivals to get a real taste of local life. Grab a coffee at the Green Marble Coffee House and celebrate St. Patrick's Day at the Mystic Irish Parade, where bagpipes sound through the streets.
Wander downtown Mystic and support local artists at the Mystic Outdoor Art Festival. If you're looking for your holiday spirit, it's waiting at the Holiday Lighted Boat Parade, where colorful lights illuminate the river and Santa arrives by tugboat.
EAT + DRINK: Before you even leave, you'll want to watch Mystic Pizza starring Julia Roberts — and once you unpack, you can visit the real Mystic Pizza for a slice. Grass and Bone is also a must, where you can stock up on fresh meats and sourdough bread from the market or grab lunch to go. For dinner, eat oysters out of a darling blue house called Oyster Club and let New England charm enchant you.
SLEEP: Rest in an adorable Mystic vacation home that's big on charm.
STAY EVOLVE
After a day exploring America's best small towns, you'll want a hot shower and a place to enjoy the view. Evolve has vacation homes near these places and beyond — and our Rest Easy Promise gives you the confidence that every home will be as good as you saw online.