It's official: road trips have experienced a resurgence in the U.S. With so many travelers taking to the open road, that inevitably means stops at unique roadside attractions.
Of course, the best roadside attractions give you the chance to witness everything from larger-than-life statues to can't-help-but-smile kitsch. So hop out of the car to stretch your legs at these whimsical sights you can find across the country — and stay at a clean, verified home right on your route.
Best California Roadside Attractions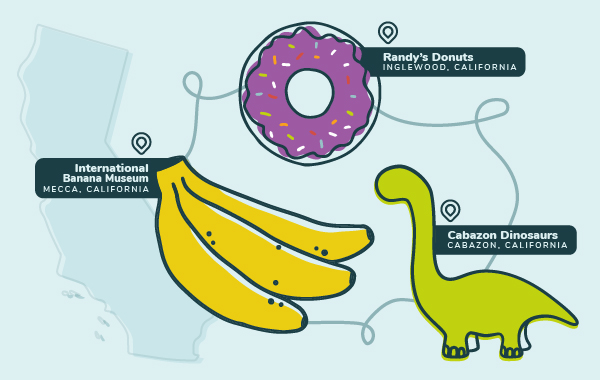 Whether you grab breakfast burritos before hitting the open road or spend happy hour at palm tree-shaded rooftop bars, you can't go wrong with a California road trip. Make sure you stop at these unforgettable roadside attractions to make your drive even more memorable.
Randy's Donuts
805 W. Manchester Blvd, Inglewood, CA
A towering donut beckons you to stop by Randy's Donuts, which you might have seen on Arrested Development, Californication, or Entourage. Visit for a glazed midnight snack (they're open 24 hours!) or a photo opp with a 32-foot pastry.
Cabazon Dinosaurs
50770 Seminole Dr, Cabazon, CA 92230
Dinosaurs, palm trees, and ice cream await at Cabazon Dinosaurs. This former Pee Wee's Big Adventure shooting location takes you back to the Jurassic period by way of enormous steel dinosaurs that tower into clear blue skies.
International Banana Museum
98775 CA-111, Mecca, CA 92254
Gain a new appreciation for bananas at a very low price. For just one dollar, you'll get into the International Banana Museum where you can order a banana shake (OK, that costs extra), peruse over 25,000 items devoted to the namesake fruit, and dress up in banana-wear for some a-peel-ing pictures.
Integratron
2477 Belfield Blvd, Landers, CA 92285
A sound bath can be an otherworldly experience, especially when it takes place at Joshua Tree's Integratron. Once visited by Anthony Bourdain, you can follow in the celebrity chef's footsteps and soak in the ethereal soundscape created by this giant white dome surrounded by miles of desert.
Chandelier Drive-Thru Tree
67402 Drive Thru Tree Rd, Leggett, CA 95585
Sometimes you just want to visit a roadside attraction where the best part is staying in the car. The Chandelier Drive-Thru Tree is quite literally a tree you drive through. The 276-foot redwood has a gaping hole that can fit most vehicles, creating an unreal experience (and wow-worthy photos). You can also tour famous sights along the Redwood Highway, like the Avenue of Giants, home to some of the largest trees in the world.
Winchester Mystery House
525 S Winchester Blvd, San Jose, CA 95128
Staircases lead to nowhere and nooks and crannies turn to secret passages at the Winchester Mystery House. Here you can get inside the mind of Sarah Winchester, a late-1800s heiress who spent the last half of her life turning a simple house into a 160-room masterpiece.
Where to Stay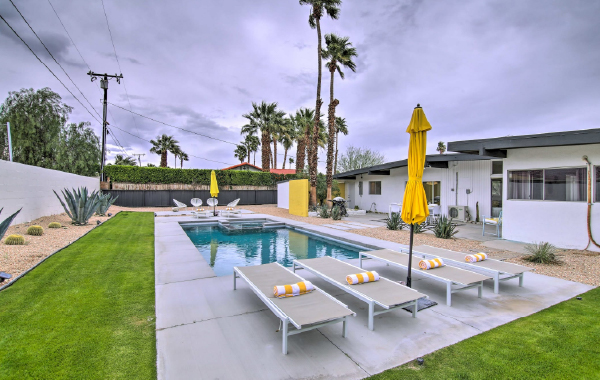 If you're touring Southern California's best roadside attractions, head to this retro mid-century hideout that sleeps four guests. You can seek solace from the heat in the resort-style pool, or spend time exploring more quirky sights right in Palm Desert, like a 26-foot-tall statue of Marilyn Monroe or the house where Elvis spent his honeymoon.
Those traveling north can rest easy in this colorful condo. It's located one block from the Golden Gate Bridge — and a short drive away from some of the best wine regions in the U.S.
Best Upper Midwest Roadside Attractions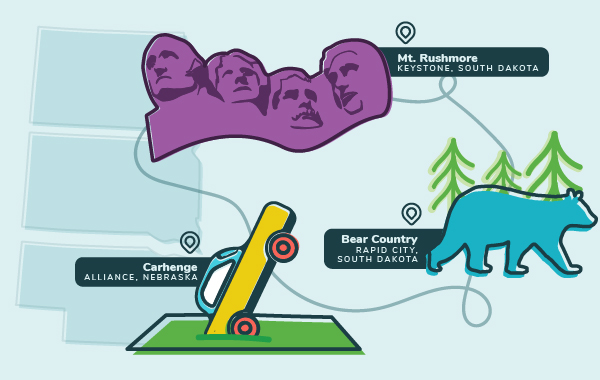 Many travelers flock to the upper Midwest to see the striking geological formations at Badlands National Park. But while visiting this area of the U.S., you'll also want to check out these eccentric roadside attractions.
Wall Drug Store
510 Main Street, Wall, SD 57790
Play on a cement jackalope, befriend an animatronic dinosaur, and shop western-themed wares — all of it is possible when you stop at Wall Drug. Be sure to try some of the free water advertised for miles on the surrounding highways, or pick up a homemade donut in the cafeteria Fern worked at in Nomadland.
Bear Country USA
13820 US-16, Rapid City, SD 57702
Don't be alarmed if a bear wanders up to your window while at Bear Country USA. Getting up close with them — along with elk, buffalo, reindeer, and more — is all part of the experience when driving through this outdoor animal park.
Carhenge
2151 Co Rd 59, Alliance, NE 69301
An homage to Stonehenge, this 38-vehicle sculpture is found in the middle of a Nebraskan farm field. Crafted from old cars, it really is a unique roadside attraction that's free to visit and impossible to forget.
Mt. Rushmore
13000 SD-244, Keystone, SD 57751
You really can see history carved into stone at Mt. Rushmore. Whether you pay to enter the park or drive the winding roads that give you a peek at Washington, Roosevelt, Lincoln, and Jefferson, it's a can't-miss national monument that's even more impressive in person.
Deadwood
18 76th Dr, Deadwood, SD 57732
The Wild West is found at Deadwood, a historic gold rush town in South Dakota. Grab a seat at a local saloon, test your luck at a local casino, or learn about the heyday of prospecting at the Days of '76 Museum.
Enchanted Highway
607 Main St, Regent, ND 58650
Pack multiple roadside attractions into one drive along North Dakota's Enchanted Highway. Impressive sculptures — including enormous pheasants, a tin family, and an oversized grasshopper — will greet you on this scenic 32-mile drive.
Where to Stay
This sprawling Sturgis vacation rental peers over South Dakota's best panoramas. With 4,000 square feet, you can bring up to 20 people along, which makes this the perfect stop if you're looking to meet up with family and friends halfway.
Best Lower Midwest Roadside Attractions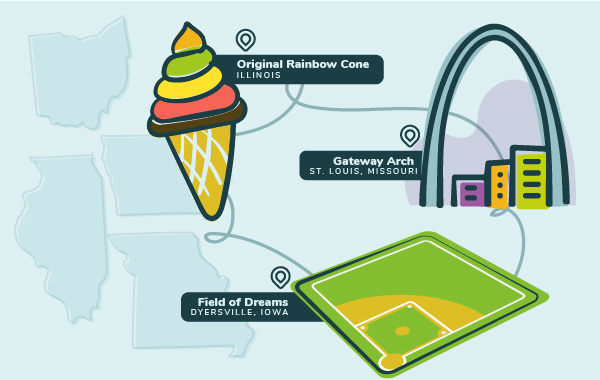 Whether you're stopping in Chicago to take in the riverfront architecture, driving to Branson for a family vacation, or spending a long weekend at Ohio's theme parks and national parks, you'll want to add these fun roadside attractions to your route.
Original Rainbow Cone
9233 S Western Avenue, Chicago, IL 60643
The Original Rainbow Cone is an essential part of any Chicago summer or fall. Stop here for stacked rainbow sherbet served out of a bright pink facade and see why it's been locally loved since 1926. (If you're up for a drive while you eat, you can check another roadside attraction off your list at the Leaning Tower of Niles.)
Hocking Hills Scenic Byway
Rockbridge, Ohio
When you're Ohio-bound and in need of new sights, take a breather in nature on the Hocking Hills Scenic Byway. Here, roadside attractions get a new definition as you'll see an array of tumbling waterfalls, bright wildflowers, and stunning vistas.
American Gothic House
300 American Gothic St, Eldon, IA 52554
Experience the place that inspired Grant Wood's 1930 painting at the American Gothic House. You can practice your most stoic face and recreate the painting with a picture in front of the white house with gothic-style windows (and yes, they'll even lend you a pitchfork).
Field of Dreams Movie Site
28995 Lansing Rd, Dyersville, IA 52040
Get some fresh air and grab baseball concessions at the field from Field of Dreams. It's free to visit (although donations are encouraged), and you're sure to feel the magic of America's favorite pastime if you take a tour of the home and surroundings, learning insider film trivia along the way.
Gateway Arch
11 N 4th St #1810, St. Louis, MO 63102
Climb 63 stories into the sky by tram at the Gateway Arch, a beacon on the St. Louis skyline. At the top, you can take in the view from 630-feet above ground.
Silver Dollar City
399 Silver Dollar City Pkwy, Branson MO 65616
Channel your thrill-seeking side at Silver Dollar City, an 1880s-style theme park in Branson that has everything from water rapids to family-friendly rides. With 31 roller coasters to choose from, there's not a chance you (or anyone on your road trip!) will be bored before getting back on the open road.

Where to Stay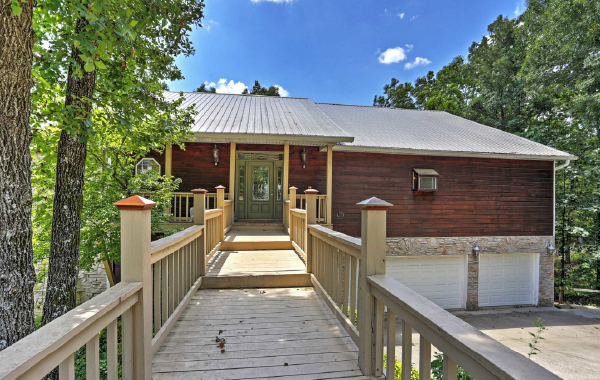 A road trip through Missouri should include a splurge on this Branson vacation home with mountain views and an indoor pool. Those looking to stay in Chicago can check out this cozy, affordable apartment that's a stone's throw from the artsy Logan Square neighborhood.
Rest Easy Touring America's Best Roadside Attractions
A big part of staying relaxed on your road trip is knowing you can check into a place that will be ready for your arrival. All of our homes are verified in person — and if something isn't right or you need to change plans, we'll be there to help make it right.