Lake Havasu is an ideal location for group trips and family reunions. With 300 days of sunshine, hundreds of miles of shore line, and surrounding mountain trails, there is plenty to do.
Actually, it's so popular that some visitors are finding it's a challenge to secure accommodations for their annual trips. That's one reason vacation rentals have taken off as a convenient and lucrative solution in this area. Owners can stay in their homes whenever they want and rent them out to guests the rest of the time to generate revenue with their properties.
To show why this has become such an attractive option, our Vacation Rental Performance Report has key data on rental income, occupancy rates, booking windows, and vacation rental inventory.
Download our performance report to see why this destination is a great place to start a vacation rental.
How Much Can You Make with a Vacation Rental in Lake Havasu?
Traditional single-family homes are the most popular option. Our research shows that 90% of the vacation rentals in Lake Havasu are houses. If you're looking for a property with great rental potential, this is a good place to start.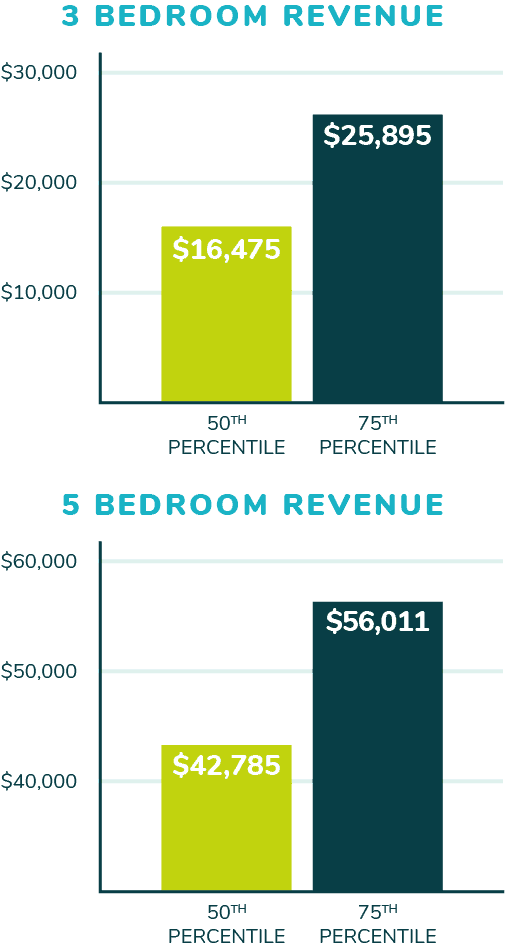 Nearly half of all rental properties have three bedrooms and your earning potential greatly increases with higher bedroom counts that can accommodate groups. But if you can afford to spend more on a larger property upfront, you'll likely see a greater payoff in the long run. Here's some data to consider:
With a three-bedroom home, you can expect to make $16,475 at the median and $25,895 at the 75th percentile.
With a five-bedroom home, you can make $42,785 at the median and $56,011 at the 75th percentile.
For context, the median represents owners at the 50th percentile, who perform directly in the middle of the market. The 75th percentile reflects top performers who are in the top 25% of the market.
How to Become a Top Performer in Lake Havasu
Property size plays a role in performance. But equally important are the quality of the property, the amenities, the marketing, and the guest experience.
There are hundreds of rentals in this area and that creates a healthy amount of competition. To keep your rental booked, there are a few in-demand amenities you should have:
Water access
Private pool
Hot tub
The closer you are to the lake, the better. That's the premier attraction in the area. Backyard pools and hot tubs are an added bonus that make your home feel like a private resort to travelers who are looking for accommodations.
However, there are additional performance differentiators that have less to do with what's in the property and more to do with how it's run. In top-rated Lake Havasu rental homes, guests frequently mention that they appreciate:
Vacation rentals live and die by their reviews. If you provide a spotless property that has everything guests need to enjoy their stay, you've already met the criteria for what guests want. And if you leave out a welcome book and special touches for guests, your rental property will quickly gain a positive reputation among vacation rentals in Lake Havasu.
Download Our Full Report for More Details
Want to explore more stats about the vacation rental in Lake Havasu? Download the full report and learn:
● Rental income potential by property size
● Average occupancy by property size
● Average daily rate by property size
● Average days booked in advance
● Average length of stay
● Vacation rental inventory by property size
● Occupancy rate by month
Earn more from your second home without the hassle. Evolve has helped more than 10,000 throughout North America earn over $500 million in rental income. Click here to learn how.