With awe-inspiring views, small-town charm, and endless opportunities for outdoor adventure, it's no wonder why lake houses are so popular among U.S. travelers. Nature enthusiasts can spend their days hiking tree-lined trails, adrenaline junkies can try their luck at exhilarating water sports, and leisure lovers are bound to feel at ease unwinding on a sunset cruise with a glass of Pinot in hand.
Plus, in the wake of COVID-19, 61% of families say they would rather vacation in an outdoorsy destination than an urban one — and they all need a place to stay. This means that now more than ever, lake town vacation rentals can be a terrific investment.
With nearly 500,000 lakes scattered across the U.S., figuring out where to invest in a lake house can take time and effort. Luckily, the research is already done. From woodsy cabins in upstate New York to waterfront gems in the Midwest, here are the best places to buy a lake house right now.
How We Chose the Best Places to Buy a Lake House Investment Property
Our data is based on a combination of proprietary and public data, but the three key metrics we took into account are:
Vacation rental performance metrics for lake towns across the U.S. to learn where bookings lead to higher median revenue
A combination of Zillow, Redfin, and internal data to identify median listing prices in lake towns
Estimated yearly expenses to run a vacation rental (approximately 30% of total revenue) to help calculate cap rate
In addition to these metrics, we also evaluated a vacation property's potential to outperform market expectations with an Evolve partnership. Below, you'll see The Evolve Difference showcasing how we helped some of our top lake house owners maximize income and significantly beat the market's projected revenue.
Please note: all data projections reflect ideal-state scenarios. Variables like owner-blocked calendars and extenuating circumstances (like natural disasters) are not factored into these calculations.
1. Finger Lakes, NY
New York's Finger Lakes region is home to 11 pristine lakes located just south of Lake Ontario. A year-round destination for families looking to escape city hustle and bustle, the area offers a wide array of museums, attractions, wineries, and scenic state parks. This impressive draw for travelers translates to strong profit potential for investors, which is how top Evolve homes in the Finger Lakes pull in over $72,000 — more than double the median annual revenue.
This region is the most affordable on average in comparison to other best places to buy a lake house, making it easier to break into the market on a tighter budget. When investing in the Finger Lakes, our real estate experts recommend searching in Seneca Falls, Geneva, and Penn Yan for that perfect waterfront property — as water access is a key amenity in this part of the country.
Just note: many towns in the Finger Lakes region have permitting and zoning restrictions, so familiarize yourself with the regulations in your chosen area and connect with local officials for a deeper understanding of how they apply.
2. Saranac Lake, NY
Tucked in the world-famous Adirondack Mountains, the charming village of Saranac Lake boasts scenic views, laid-back vibes, and plenty of things to do. From boating during the summer to leaf-peeping and mountain biking in the fall, a Saranac Lake vacation rental investment is ideal for those looking to maximize multi-season bookings.
While lakefront homes can get more expensive than the area's median listing price — and top-performers often offer direct lake access — owners don't need to be right on the water to find success. Other high-earners are in close proximity to the historic downtown (or nestled in a wooded area for added privacy), and are pet-friendly.
One thing all top-performing lake house rentals in this area have in common: they're cabins. Keep this popular home type in mind when starting your search to grab the most attention from eager bookers.
3. Traverse City, MI
Traverse City is a treasure on the shores of Lake Michigan. With famous cherry blossoms, vineyards, and woodlands around every turn, show-stopping views are not hard to come by. Speaking of views: it is possible to find a home with great sights of Lake Michigan, but the area is also dotted with many smaller lakes that offer equally awe-inspiring scenery.
In fact, Evolve's most successful homes in Traverse City tend to sit on Silver Lake, Long Lake, Island Lake, and Bass Lake. According to our experts, they also have direct lake access and frequently-booked amenities like private docks, hot tubs, and fire pits.
Even better: cap rate — which is the ratio between a property's net income and its market value — has gone up since last year, meaning owners have potential to see an even stronger return on their investment. This is because median listing prices have remained relatively level while owners earned more annual income on average.
Traverse City tourism has also almost completely recovered since the COVID-19 era, so it's no surprise there's growing demand for vacation rentals in this area. Vacationers looking to expand their horizons beyond lake life will find ample opportunities for fun, from exploring the sweeping vistas and pillowy-soft sands of the Sleeping Bear Dunes to diving into Traverse City's thriving arts scene.
4. Branson, MO
Nestled in the Ozark Mountains, the lively city of Branson is home to world-famous shows, theme parks, and family-friendly activities. It's why Branson received a record-setting number of nearly 10 million visitors in 2021 — making it one of the highest-ranking tourist destinations in the country — and continues to pull in troves of vacationers.
While lakefront properties can be tricky to find here, and are often more expensive than the median listing price, our experts say snagging one can earn investors higher rates and annual income — which can help offset the upfront costs. High performers in this area also tend to be luxurious cabins with lake views or easy lake commutes.
That said, the soothing waters of Table Rock Lake are one of many reasons why visitors choose Branson, so you don't need to be right on its shores to find vacation rental success. Proximity to other major attractions like Dolly Parton's Stampede and providing in-home comforts for the whole crew are great ways to stand out to guests.
In addition to standard permits and licensing, Branson does have zoning restrictions in certain downtown areas and along stretches of Table Rock Lake. Our team recommends connecting with local agents who specialize in vacation rental to confirm whether your neighborhoods of interest are zoned for operation.
5. Pocono Lake, PA
Pocono Lake is a quaint and peaceful area in the Pocono Mountains, best known for its spectacular landscapes and wide selection of exciting things to do. Nature meets adventure here for an endless supply of fun, from whitewater rafting in the summer to vibrant foliage and festivals in the fall. Plus, its close proximity to several major ski resorts makes Pocono Lake a solid choice for investors looking to secure year-round bookings.
Vacation rentals in this area are frequently in high demand, yet the property purchase price remains reasonable compared to other best places to buy a lake house. Our experts say that top-performing Pocono Lake vacation rentals are either lakefront properties with private docks and beaches, or houses located within prestigious lake communities (like Arrowhead Lake Village) with a quick walk to the shoreline. It's homes like these that have top Evolve owners bringing in more than double the median rental revenue.
HOA regulations can be a deterrent in the Pocono Lake area, however, so investors should work with a local agent who can help them navigate those rules and find a property with high-performing potential in this strong market.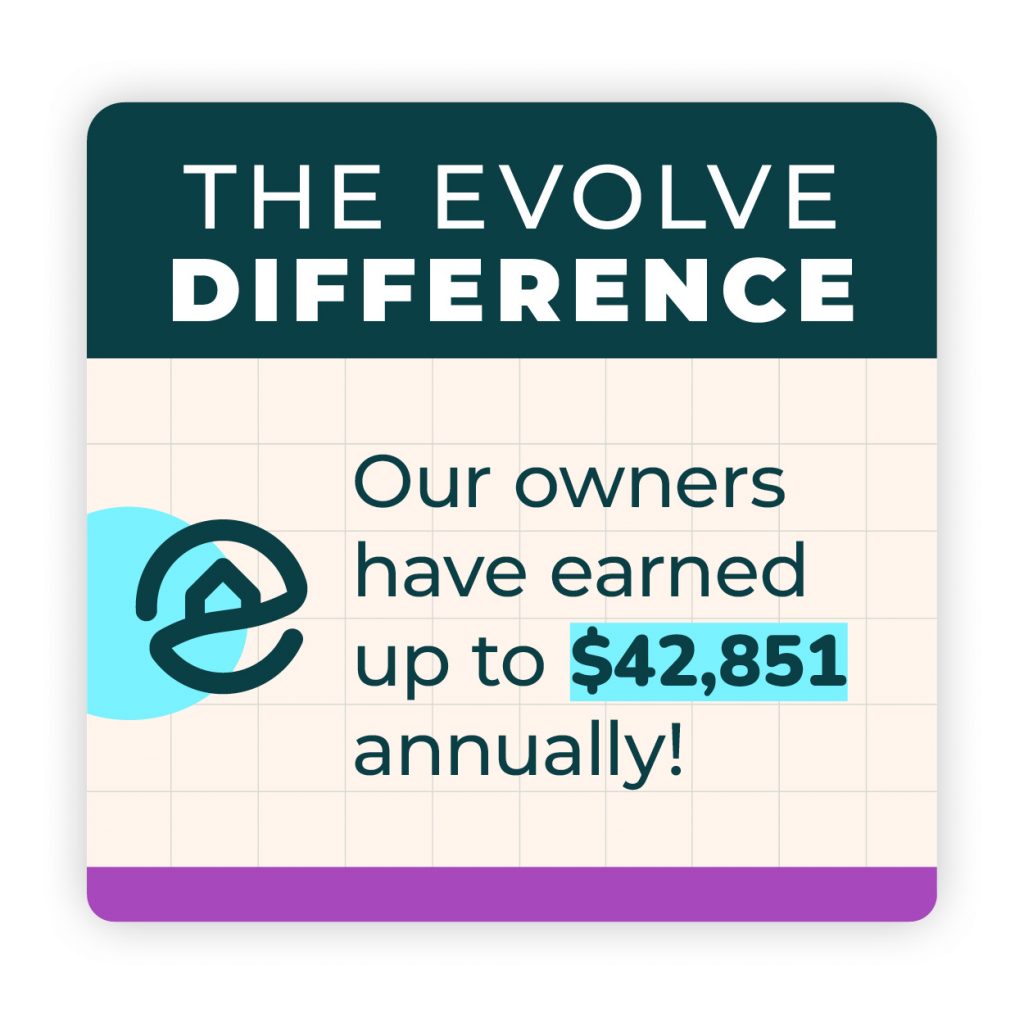 6. Buckeye Lake, OH
Buckeye Lake is bursting with all the historic charm, outdoor attractions, and welcoming vibes visitors hope for in a lake stay. Thanks to its ideal location just 30 minutes from Columbus, Buckeye Lake draws in weekenders looking for a nearby getaway while also providing out-of-towners with a stellar day trip option during their vacation.
Nature lovers are sure to get their fill with plenty of opportunities for boating, biking, hiking, fishing, and lakefront dining in this area. So it's no surprise that Evolve homes drawing the most interest from guests are located within walking distance of the shoreline and provide easy access to the nearby state park.
When looking at listings for sale, our real estate experts recommend searching for a spacious property in Millersport or Thornville to get the best bang for your buck. Just keep in mind home prices in these towns can get more expensive as you inch closer to the shoreline. So after you buy, you'll want to make sure you offer the amenities midwestern travelers love to help boost your bottom line.
7. Lake Anna, VA
With over 200 miles of shoreline and a convenient location just an hour and a half from Washington, D.C., Lake Anna is one of Virginia's top destinations for water enthusiasts. But it's an idyllic paradise that beckons all types of travelers thanks to its thrilling water sports, wineries, lakefront restaurants, outdoor markets, and historic attractions.
When buying a Lake Anna investment property, our experts advise honing in on the cities of Bumpass, Mineral, and Louisa. Those with four to six bedrooms, large decks, boat docks, and spacious backyards tend to earn the most — and it doesn't hurt to offer kayaks and a fire pit to entice guests to book your rental over someone else's.
While larger estates and luxe amenities typically come with a steeper upfront cost in Lake Anna, those who can swing the investment tend to see much higher results — that's why top Evolve owners in the Lake Anna area are earning nearly three times the median revenue.
8. Lake Winnipesaukee, NH
As New Hampshire's largest lake, Lake Winnipesaukee is a popular year-round destination for tourists and locals looking to embrace its picturesque views, peaceful atmosphere, and a variety of outdoor activities. Vacationers can go hiking in the spring, swim in the summer, go leaf peeping in the fall, and ski at the nearby Gunstock Mountain Resort in the winter — all of which increase your odds of year-round bookings.
While Lake Winnipesaukee spans 72 square miles, our experts recommend narrowing your search to Gilford, Laconia, and Wolfeboro. Many of the homes around the median listing price either sit right on the water or boast picture-perfect lake views, which can translate to higher demand and owner profits.
That said, you'll also find properties in Lake Winnipesaukee listed well into the millions. These tend to be larger estates with six to eight bedrooms and luxury perks like multi-boat docks. But hopeful buyers don't need limitless pockets to guarantee vacation rental success in this area. It's all about evaluating whether you can invest in profit-driving amenities like lake access and private docks within the realities of your budget.
It's worth mentioning that your lake house vacation rental doesn't have to sit right on the shoreline to do well in this area, either. Many successful homes are within at least a mile or so of popular lake access points like Weirs Beach, but you can also draw in guests with beautiful views of the mountains or woods and proximity to local skiing.
9. Lake of the Ozarks, MO
Set in the heart of Missouri, Lake of the Ozarks is a premier vacation destination for families that boasts natural wonders, recreational activities, and entertainment venues. From sparkling lake vistas and sunny beaches to rolling hills and lush forests, Lake of the Ozarks offers jaw-dropping beauty everywhere you look. As if this didn't add enough value to the area, Branson also sits just an hour away — perfect for an easy day trip.
With over 40 towns and more shoreline than the coast of California — 1,100 miles, to be exact — our experts recommend investors concentrate their search on Osage Beach, Lake Ozark, Sunrise Beach, and Camdenton for maximum profit potential.
Top Evolve owners earning more than double the median rental revenue here either sit on the lake, boast incredible lake views, and/or are located in or near popular resort communities like Margaritaville.
10. Brainerd Lakes, MN
Located along the Mississippi River, the Brainerd Lakes area is a quintessential lake destination where small-town charm and adventure collide. Visitors can immerse themselves in the scenic beauty by hiking or biking through miles of trails, kicking back on a boat cruise, and sunbathing on one of the many public beaches. During summer, the Lakes Area Music Festival also brings in hundreds of artists for epic live shows.
With a whopping 450 lakes in the Brainerd Lakes area, it's not hard to find a waterfront property. However, our experts recommend focusing your search on Nisswa, Pequot Lakes, and Crosslake to increase potential for a strong return on your investment.
High-performing vacation rentals sit primarily on those three lakefronts, and offer guests private beaches and fire pits along with indoor perks like fireplaces and saunas. As a result, some Evolve owners make nearly three times the median rental revenue.
11. Canyon Lake, TX
With 80 miles of unspoiled shoreline and Caribbean-blue waters, Canyon Lake is a tranquil oasis in the heart of Texas Hill Country. Each year, tourists flock to the area to experience the best of the "Water Recreation Capital of Texas," from boating and swimming at one of the nearby parks to discovering ancient fossils and dinosaur tracks at Canyon Gorge.
Top-performing vacation rentals in Canyon Lake tend to be spacious properties with striking lake views or easy access to boat ramps. Family-friendly amenities like game rooms and luxe adds like hot tubs also draw traveler attention.
Before you invest here, it's important to understand that vacation rental owners cannot operate within the Canyon Lake city limits. Instead, your lake house needs to be in the unincorporated county. Our experts recommend connecting with local officials before you buy to make sure the property you're eyeing sits in the unincorporated part of Canyon Lake to avoid red tape.
12. Flathead Lake, MT
Northwest Montana's sprawling Flathead Lake covers over 200 square miles and plays host to an abundance of outdoor adventures for all types of vacationers — including sailing, swimming, fishing, hiking, horseback riding, and waterskiing.
With tons of blissful shoreline, there are several towns in the Flathead Lake area where waterfront vacation rentals perform well, including Bigfork, Lakeside, and Somers. Evolve owners in these communities bring in more than double the median rental revenue with spacious homes and large decks overlooking sensational lake views.
Because very little inventory across these three towns doesn't sit lakefront, properties tend to be more expensive. That's one reason why the median listing price is higher than other great places to buy a lake house. Investors on a budget can expand their search to the nearby town of Kalispell, where proximity to Flathead Lake drives similar demand. This can help you take advantage of lower list prices — without sacrificing income potential.
Plus, there's great news for investors looking to move quickly on setting up shop: there's no red tape in this area beyond a standard operating permit, so getting your vacation rental in front of potential bookers can be pretty seamless when working with the right management company.
Buy Your Dream Lake House with Evolve
Investing in a lake house vacation rental is a big decision, but you don't have to navigate your options alone. Whether you're drawn to one of our tried-and-true hotspots or interested in the untapped potential of a lesser-known town, our seasoned team of experts can help you take the next step toward buying in one (or more!) of the best places to buy a lake house.
We have the data to contextualize your investment opportunities and define your income goals, preferred local real estate agents who specialize in vacation rental purchases, and cutting-edge management strategies to help make your lake house a success once you're ready to kickstart your business.
For additional research, here are some resources to help you better understand the potential of vacation rental investment:
Now that you're ready to talk about buying the best lake house for you, get in touch with our team today.